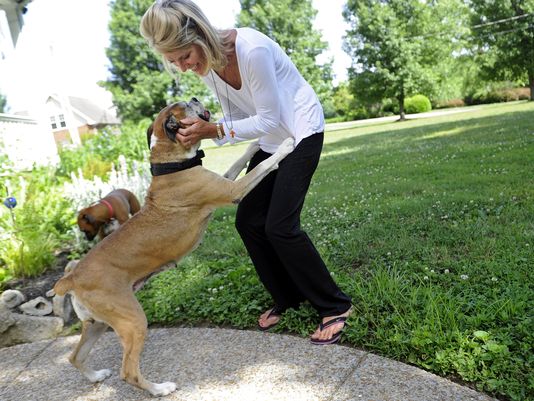 Caring for old and/or sick and dying dogs at the end of their lives may be something Valarie Wolcott is used to doing, but that doesn't make it any easier.  However when she met Ginger, a boxer that showed up in Dickson County one day, looking very emaciated and dragging a tether and chain behind her, she got one of those rare but all too wondrous surprises that makes what she does ever so worth it.
Wolcott, a resident of Burns, Tennessee, most commonly deals with end-of-life abuse cases.  Just reading about what it is she's signed herself up for makes doing so seem like an odd choice.  Bringing a sick and dying dog into your life and home, knowing it's often for an extremely short period of time, one would have to imagine the emotional toll doing this sort of work is quite steep.
You'd also have to imagine one would fight very hard not to form too much of an emotional bond with these dogs to protect oneself.  Wolcott on the other hand says she holds nothing back, allowing herself to become emotionally attached to the dogs without hesitation.  She likes to point out that old dogs need someone totally invested.
One day an animal rescue team came around looking for someone to take care of Ginger.  Wolcott was prepared to accept Ginger into her life, and at the same time, was preparing for a short lived period of care.
"She was a 'forever foster' because we thought she was going to be a pretty quick hospice," said Wolcott.
A subsequent visit to a vet reinforced this line of thinking when two large mammary tumors requiring surgery were found.  Not too far removed from surgery, at a follow up visit it was discovered that Ginger had been pregnant and still had three of the unborn pups in her.  They needed to be surgically removed as well, and the following day Ginger underwent another life-threatening surgical procedure (hysterectomy) to do so.
After a three-day evaluation she came home to Wolcott, who had split the cost of the surgeries with the Proverbs 12:10 Animal Rescue.  Not only were the stakes very high, having had the two operations in her current state of health, but the price to do the work was more than $1,200.
"Look, it's worth it," she said, as Ginger snuggled into her lap. "She's thriving."
Ginger has obtained quite a following on Facebook, where Lavonne Redferrin, founder of Proverbs, gives regular status updates.
"She is remarkable," Redferrin said. "She has bounced back and is living every day to the fullest."
Wolcott usually only gets to care for the dog for a few weeks, sometimes as long as six months.
"I'm pretty used to kind of loving them in their last days," Wolcott said. "Some days are longer than others."
She added that the days she gets to have with Ginger are the most rewarding for what can often be a very difficult job.