When Hope for Paws received a call about an injured pit bull in the LA area, they got to work on his rescue. Like most of their cases, this boy was a challenge. He wasn't just scared, but a runner. Though there was a massive struggle, Eldad Hagar managed to catch him before he got too far up a mountain.  He was named Wallace, treated for his injury, and within a month the perfect home was found for him.

Eldad had been trying to catch a timid, limping dog for three days, but none of his usual tricks worked. Few have the patience and take the time to save so many dogs in bad shape, so if Eldad can't catch a dog, who can? He finally had to resort to using a tranquilizer gun.
Dr. Amsel was brought in to administer the shot. Though he had a limp, the dog kept running – right into the mountains. He sat down, and it looked as if Eldad's chance was coming. While waiting for the drugs to take effect, Eldad fell down a hill, but that didn't stop him. Back on his feet, the heroic rescuer kept trying to catch the dog, who growled and ran up the slope.
Finally, the tranquilizer began working, and Eldad fastened a catch pole loop around the dog's neck when he lay down. But he didn't stay down: the loop didn't even make it all the way over his head before the boy started bucking and trying to yank himself out.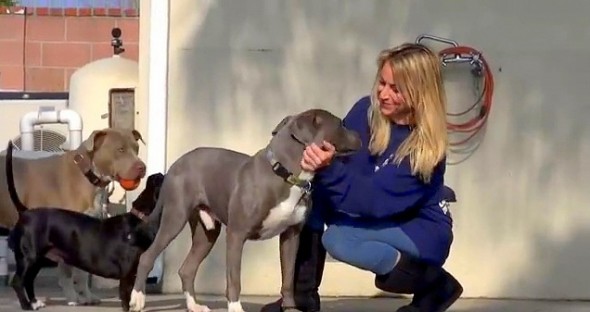 Though obviously scared, the dog, called Wallace, was remarkably sweet and friendly – even with other dogs. He was treated at the Veterinary Care Center, where it was determined that the only injury he had was an infection in his ankle.
Lisa Chiarelli, a Hope for Paws volunteer, brought Wallace home to foster. One month later, he found his forever home, and hopefully his happily ever after.