By Burt Constable, Daily Herald
In this winter of our discontent, it's not just the unrelenting snow and the merciless cold that wear us down. It's the realization that things we think of as reliable and dependent just can't be counted on.
Neither rain nor sleet will stop the U.S. mail, but the poor letter carrier who treks the tundra of my snow-packed suburban street has missed her appointed rounds several days so far in the new year. Some Metra trains run late. Airlines cancel flights. Schools and offices have closed for a day or two.
Sears says it will close its legendary State Street store forever. My dependable old neighborhood Dominick's store just vanished this winter as if it were the vaunted Chicago Bears defense, which disappeared just when it seemed as if the Bears would make the playoffs. When our Chicago Bulls took on the Cavaliers in Cleveland Wednesday night, dependable Luol Deng was playing for the bad guys. Even a newspaper columnist misses a column just because he's got that same throat thing everybody seems to have.
But Morgan stays on the job.
The 3-year-old black English Labrador retriever remains a steadfast Daily Herald carrier.
"Without ever being trained to do so, when our dog was a puppy, she saw that newspaper in the driveway and without hesitation or instruction, she went to pick up that paper and proudly trotted back to the house with it in her mouth while our jaws hung wide open!" reads an email from Daily Herald subscriber Sherry Guse of Glen Ellyn, who rightly figures "the image of a happy dog retrieving newspapers will put a smile and chuckle in your day."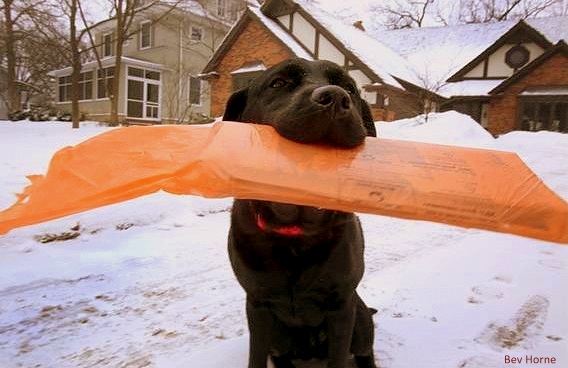 There can be a foot of snow. The windchill can be well below zero. And Morgan still delivers. Not only does she take care of delivering the Daily Herald to owners Bill and Sherry Guse and their 15-year-old son, Jonathon, Morgan also reaches out to others. When Morgan takes her morning walk with Bill Guse shortly after 5 a.m., she fetches the Guses' Daily Herald to the front door and then heads down the street.
"Needless to say, she wanted to do that with everyone's paper she saw in a driveway. So, with the permission of some of the neighbors and for the sake of time, she not only brings our newspaper to the door every morning, but she brings the papers to the doorsteps of two of our neighbors," Sherry Guse says.
Morgan gives the Guses a nice warm feeling. The dog does that for the neighbors, too.
"They also look forward to seeing her trot up their driveways each morning and cannot help but smile when they see her," Sherry Guse reports. "They (her husband and dog) do the paper thing, take a walk and are back at 6:15."
We all could use a little dog days of winter.
Yes, there are the occasional canine downsides. We have two dogs in our neighborhood who amuse themselves by barking for half-hour stretches for no good reason. I suspect they also might be responsible for the yellow snow at our corner. But you can't say those dogs aren't dependable.
If you seek real evidence of a dog's dependability, look to the U.S. Supreme Court case of Florida vs. Harris, docket 11-817, which ruled unanimously that police could rely on a trained drug-sniffing dog's opinion for probable cause to conduct a search,
"A sniff is up to snuff when it meets that test," wrote Justice Elena Kagan.
So celebrate Morgan and all the other dogs who brighten our winter days. Even in tough times, Morgan delivers.
"Sunday newspapers can be a little more challenging," Sherry Guse says, "But she always seems to manage."
Sounding a bit like every dog owner ever, she says her family's pet "is the most amazing, lovable dog."
Stuck in our suburban homes this winter, we might find ourselves waiting for videos to download, cable to come back, satellite dishes to find a signal during a blizzard or maybe even the electrical power to return.
"I can only say that I am just glad a newspaper will show up in our driveway tomorrow morning, and Morgan will be bringing it to the door. We think that we're making advances in this world with technology," Sherry Guse says, "but we can count on the newspaper and Morgan."