Deacon, a beautiful and regal Great Dane, has come a long way since he was first brought to Peace, Love and Animals, a no-kill shelter in Alabama. Not only has he been transformed but he transformed everyone whose lives he touched!
Cathy Oakley, director of Peace, Love and Animals, first received a call about Deacon late on a Thursday night. Such calls are not unusual for Cathy and, though she tries to save as many animals as possible, often there is simply not enough room for the dozens of animals she hears about on a weekly basis.
However, there was something about this call that made Cathy pay attention. The woman on the line sounded so desperate, Cathy thought she might cry! The woman described a stray dog that had been hanging around her house and described him as very sick and skinny. She had been feeding the dog and was very concerned he would be picked up and euthanized. She called Cathy because she heard that Peace, Love and Animals is a no-kill organization.
What was even more impressive is that the woman then said she would bring the dog, appropriately named Deacon, all the way from Tuscaloosa, Alabama to Tanner, Alabama-more than a two hour journey! Her area simply lacked any no-kill rescue organizations, at least that she knew of.
When she brought Deacon in, it was clear that he needed immediate veterinary care. He barely had any hair and was covered in open sores and scabs, including on his face. In addition, his body was hot to the touch with fever.
So, he was brought to the vet's office that Monday, where many people kept staring at Deacon and even asked what was wrong with him. After an examination and many tests, Cathy received heart breaking news that confirmed her worst fears: Deacon had the most severe and life threatening kind of mange, Demodectic Mange, coupled with a yeast infection in both ears, hook worms and was heartworm positive.
Cathy and the doctor had to make some tough choices as Demodex and heartworm cannot be treated together without a very high chance of death. Basically, the treatments work against each other. So, Cathy chose to treat the mange first, since it would give Deacon the most immediate relief.
Even in the midst of being covered in sores, Deacon seemed noble. Cathy describes Deacon during this period:
"I look at Deacon and I see a beautiful noble giant. His tender eyes will look so lovingly at you and he knows he is safe. He knows we are here to help him as he lays his massive paw ever so gently on my knee as if to say 'thank you.'"
Thankfully, Deacon's mange was treated successfully despite its severity and they were able to move on to treating his heartworm. Deacon quickly became a favorite at Peace, Love and Animals and everyone worried about whether each day could be Deacon's last. Deacon even got his own fan club on Facebook while he was recovering and searching for a forever home and he received many adoption applications.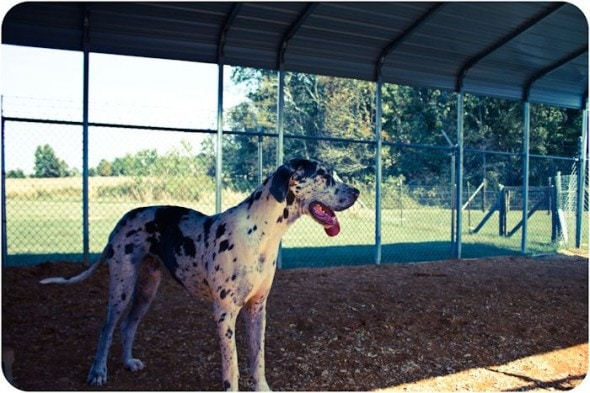 However, Cathy wanted Deacon to go to the perfect home no matter how long it took. Finally, after sifting through many good adoption applications, there was one that particularly stood out. It was all the way in Memphis, Tennessee but it seemed to be exactly what Cathy was looking for: a great vet referral, personal references and even experience with Great Danes!
Cathy scheduled a home visit with the applicant, Carrie, to see if this could be a good enough fit to be Deacon's forever home. Cathy had mixed feelings as she really loved Deacon, but she knew that she had to let go.
When she arrived in Memphis, Carrie was waiting in the front yard, eager to meet Deacon. Her home was also perfect for a Great Dane. She had also known how to prepare for Deacon as she had had Great Danes for most of her life. She already had raised food and water bowls, extra-large beds, and toys to entertain him. Most importantly, Cathy noticed that Deacon began to feel at home and he began to relax. It was like he knew he would be loved and he happily began to explore and to wag his tail.
Cathy describes leaving Deacon with his loving, forever home:
"I left a part of my heart in Memphis that day, curled up on one of those extra large beds, sleeping so peacefully with his new momma at his side…I knew it was closure…there will never be another quite like Deacon. This magnificent giant touched so many. There hangs a little tag in our kitchen engraved 'Deacon.' It is a constant reminder of the challenging journey we must do each day to rescue these precious dogs…"
———————–
Peace, Love and Animals is a 501(c)3, no-kill  rescue organization located in Tanner, Alabama. They work to provide dogs with a comfortable abode until they find a permanent home. The innovative rescue was actually created using a horse barn which was transformed into a rescue facility.
Deacon is just one of many animals that are rescued, often needing extensive medical help. To donate towards other animals like Deacon, see donations.