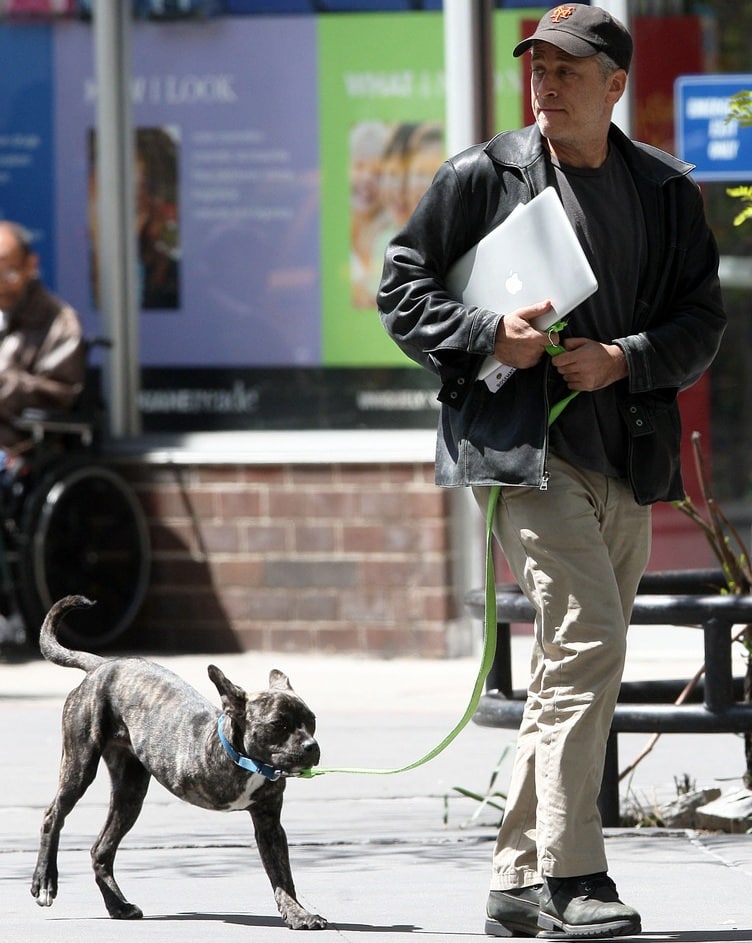 Jon Stewart has recently been spotted pounding the pavement with his three-legged dog, Champ.  The Daily Show host is well-known for his love of dogs, and though this isn't news, it is worth noting that the prominent figure uses his celebrity for a good cause.  He is a champion of pit bulls, stating that the breed is "unfairly maligned in spite of evidence that it is no worse than any other dog."  In addition to Champ, Stewart has rescued two other pit bulls, Shamsky and Monkey.
Dogs were a welcome addition to The Daily Show offices before Stewart was made host in 1999, but since then, it has become a "dog nirvana."  Employees are encouraged to bring their buddies with them, and about a dozen dogs are sauntering around the workplace on any given day.
Jon Stewart ridicules NFL sportscasters for downplaying Michael Vick's dog torture.
"The first thing new employees, show guests and visitors notice are the dogs," said Claudia Kawczynska of Bark Magazine.  "Free-ranging and ubiquitous, they have become an integral part of the office landscape: roaming, playing or lying about, with toys scattered everywhere. They attend staff meetings, share office chairs [and] charm the celebrity guests."
Stewart will soon be taking some time off to direct a feature film, but it is likely that the dogs will still be making their rounds in the office.
"Everyone I spoke with agrees that having dogs as co-workers may have something to do with the show's ongoing success," Kawczynska said. "Not only are they great de-stressors, good for morale, comforting and relaxing, the dogs contribute their own dose of inimitable comic relief to a group that's focused on creating and showcasing comedy."
Behind the scenes at The Daily Show with "Dog" Stewart:
Visit NBCNews.com for breaking news, world news, and news about the economy