It's encouraging to see Hollywood celebrities jumping on the animal advocacy bandwagon in greater numbers with each passing year. This week, one of them made a tremendous gesture that should be applauded. Katherine Heigl has six dogs of her own, so it's no secret that she's a dog lover, but it was still surprising to see that she donated $1 million to an initiative aimed at reducing shelter euthanization rates in the LA area through public outreach for spay and neuter programs.
I'm including part of the press release below for those interested in specific details, but if you only have a minute or two I'd recommend you take in this powerful video released by the Heigl Foundation. Note that Blog Hop details follow the press release.
.
A recent interview with Keigl and Millan:
.
Los Angeles, CA, Thursday, September 23, 2010 – In a press conference held today at the Four Seasons Hotel,Katherine Heigl, accompanied by the Jason Debus Heigl Foundation Board, kicked off a major companion petinitiative – The Compassion Revolution. Its broad mission is to unite diverse groups and individuals under one alliance to initiate programs that will directly address the pet overpopulation crisis in the area, and to set a precedent for similar programs across the country.
To kick off the Compassion Revolution, today the Heigl Foundation announced a $1 million pledge for spay/neuter and supporting programs in the City and County of Los Angeles and neighboring communities.
The pet population crisis is a serious one, and the approach to addressing the problem must be equally serious and all-encompassing. The most practical and immediate means of tackling this crisis is through spay/neuter programs that are accessible and affordable to all pet owners, along with providing the necessary tools to promote responsible pet ownership, including information and training. The time has come for everyone, including City and County officials, local businesses, residents, animal advocates and shelter management and staff, to come together, not only to implement effective programs, but to support an entirely new paradigm to better the lives of our companion pets. Together we have the power to create a consensus which rejects killing as a method of achieving results.
The current statistics are staggering:
The ASPCA estimates that 5 out of 10 shelter dogs and 7 out of 10 shelter cats are euthanized annually across the nation in large part because the number of animals entering shelters is far greater than the number of animals that are adopted from shelters.
Between 6-8 million dogs and cats are abandoned at shelters in the United States annually.
500,000 companion animals are euthanized every year in California.
Each year, California taxpayers spend $250 million to shelter and euthanize dogs and cats state-wide.
In 2009, Los Angeles County shelters took in 83,252 cats and dogs. Of that number 50,692 were euthanized.
In 2009, Los Angeles City shelters took in 54,129 cats and dogs. Of that number 19,547 were euthanized.
Katherine Heigl, on behalf of The Heigl Foundation , introduced the Compassion Revolution, with the support of the Found Animals Foundation and the Millan Foundation (www.millanfoundation.org), represented by speaker Cesar Millan.
Dedicated funding announced today included:
– $30,000 to Dr. Novy's Valley Vet non-profit, to fund rescue spay/neuters in Camarillo and surrounding areas.
– $100,000 to Spay4LA to complete the funding of a mobile spay/neuter clinic, to provide low-income residents of South Los Angeles access to FREE spay/neuter for their pets as a means to decrease the number of stray animals, shelter intake, euthanasia and costs. The goal of this South LA mobile unit is to sterilize 5,000 animals annually.
– $50,000 to Downtown Dog Rescue for spay/neuter in the Compton area, via the AngelDogs Foundation mobile clinic.
– $50,000 to H.E.A.L. to provide free spay/neuter to San Bernardino and the surrounding area.
-Pit Bull and American Staffordshire Terrier Targeted Spay/Neuter Program. In partnership with Los Angeles Animal Services (which operate LA City shelters) and the County of Los Angeles Department of Animal Care and Control (which operate the LA County shelters), and announced today by LA Animal Services' Brenda Barnette, the Heigl Foundation will establish a program called "The Apollo Initiative." It will offer no cost, "no questions asked" spay/neuter, vaccination and microchipping services specifically for American Staffordshire Terrier and Pit Bull breeds and mixes in designated zip codes.
– The Heigl Foundation announced today that, to start, it is allocating $100,000 for The Apollo Initiative to be implemented at LA City and County shelters.
-Training and Education Program. Under the Compassion Revolution Initiative the Heigl Foundation announced today that it will subsidize the Learn to be a Best Friend program with an initial commitment of $50,000. This program provides complimentary basic obedience training and proper pet care education programs to the public. We believe this is a crucial program as many pet owners surrender their animals to shelters for alleged behavioral issues that may be easily corrected with simple training techniques. Residents will be able to register at participating City and County shelters and will receive a complimentary pet care gift package, donated by the Millan Foundation, upon completion of the 1-hour class. Each class covers topics such as integration of the pet into the family, positive reinforcement training, house breaking, and proper dog socialization. Instructors will also provide education on topics such as the importance of spaying and neutering pets (including referrals to local no cost or low cost
spay/neuter services), local laws applicable to pet ownership, availability of low cost veterinary care and the grim reality of relinquishing a pet to a municipal shelter. Animal Advocates Alliance is currently administering the operation of the pilot program at the Baldwin Park shelter.
-Transport Program. Under the banner of the Compassion Revolution, the Heigl Foundation will continue to support and subsidize the transport of animals from local shelters where they were scheduled to be euthanized, to pre-approved humane societies, rescue organizations and "no kill" shelters in an effort to reallocate companion pets from overpopulated areas to areas with fewer adoptable pets. As an example, the Heigl Foundation has funded transports of over 4,000 animals from Los Angeles City and County animal shelters to the North Shore Animal League in New York, to rescues in Oregon and Montana, as well as transports organized by Best Friends Animal Society from Los Angeles County shelters to the Salt Lake Humane Society. It will also continue to actively seek transport partners in an effort to address the immediate need to find suitable alternatives for the pets at risk at local municipal shelters.
-Adoption. Through its Compassion Revolution programs the Heigl Foundation will continue to promote the adoption of companion pets from local shelters and discourage the purchase of pets from pet stores that obtain animals from commercial puppy factories commonly known as "puppy mills." Additionally, the Heigl Foundation will continue to subsidize adoption fees through the LA City New Hope program, which reduces fees rescuers pay to take animals who are at risk of imminent euthanasia.
Katherine Heigl, on behalf of the Heigl Foundation and supporters of the Compassion Revolution, invited all residents of Los Angeles and surrounding areas, to be part of the effort in addressing our pet overpopulation crisis through donations, volunteerism, educating others about the availability of the programs described above, and/or simply encouraging family members, neighbors, friends and colleagues to be part of the solution by joining the Compassion Revolution.
***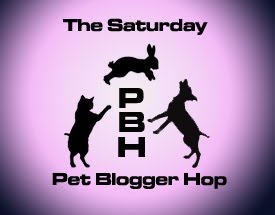 Welcome to another installment of the Saturday Pet Blogger Hop! You've found the right place to connect with other pet lovers. Whether you are a seasoned blogger, one who loves reading pet blogs, or if you're just thinking about starting your own blog – there is definitely something here for you. Acquaint yourself and enjoy – this is your resource, so use it as you see fit! Of course, you have to follow the rules, so let's get to that. Get those links in and have fun.
* Link up your pet blog name and URL using the Linky Tool below. You only need to add your link once to be seen on all the Saturday Pet Blogger Blog Hop Linky Tools for that week. Note that if your blog is not pet related your link will be removed.
* Grab the "Saturday Pet Blogger Blog Hop" button at the upper left of this blog and include it in your Saturday Blog hop post so that your readers will know what is going on. *Note – posting is optional. Feel free to just link and follow.
* Follow your co-hosts listed in the first 3 slots of the Linky Tool.
* Follow as many other blogs on the linky as you'd like
* Take a moment to comment on the blogs telling them you're from the blog hop.
* Follow back when you get a new follower through the Saturday Pet Bloggers Blog Hop