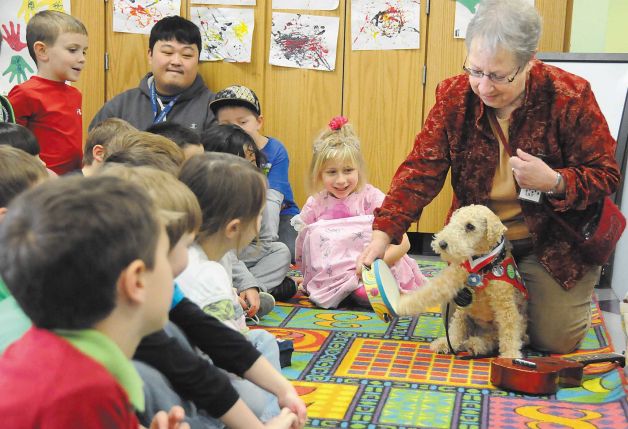 Lily is getting older and can't perform all the tricks she used to, but the 13-year-old terrier still keeps busy. She regularly visits assisted living facilities, schools, hospitals and hospice patients bringing smiles wherever she goes. Lily's hard work was recently recognized by the Oregon Veterinary Medical Association and the Oregon Animal Health Foundation when they inducted her into the 2013 Oregon Animal Hall of Fame.
Lily's owner, Marcia Solomon, decided she wanted to train a therapy dog years ago when she saw firsthand how dogs can help people. She works in psychology and special education and years ago she met a 7-year-old boy who was reluctant to speak to Solomon but through his dog Solomon was able to reach the boy. "It's the nonthreatening aspect with dogs. It helps kids open up."
When Solomon was looking for a puppy to train she found Lily and knew she was perfect. "If you put her up on your neck, she hugged," Solomon said. "The other puppies let you hold them but they didn't snuggle as much as Lily." Lily became certified as a therapy dog soon after her first birthday and began her career by visiting patients at a rehabilitation hospital in West Virginia.
In 2007 Solomon and Lily moved to Corvallis, Oregon and Lily started bringing her therapy to the community. They joined up with Welcome Waggers therapy dog group and through them Lily regularly visits kindergartners at the local Boys & Girls Club to help them read. "It's fun 'cause the dog listens to us read," said 5-year-old Chloe Buford.  "We get to pet her and feed her treats and let her touch the book." Lily comforts the children as they learn to read and also brings smiles to their faces with all the tricks she can perform, including playing a ukulele.
Lily was nominated for the Hall of Fame by her veterinarian and she has been awarded the companion award. The award recognizes animals that have provided a benefit to their human companions or their community. Lily has scaled back the amount of tricks she performs in her old age but she still brings smiles to everyone's faces in the community of Corvallis. "She has never met a dog or person she didn't like," said Solomon. "She's just very happy to interact."