We know our fans hate to see stories of horrific abuse – it's often too painful to see the photos because your compassion causes your heart to break for these innocent dogs. But for their sake, help find their torturers and bring them to justice!
Staff at the Animal Rescue League in Boston were devastated by the condition they found Puppy Doe in. The white and brindle pit bull was starved, burned, beaten, stabbed in the right eye, her tongue was split, and her limbs had been "drawn," something that can only be described as medieval-style torture. This happened over a period of weeks or months – possibly the majority of her entire life. The injuries this 18-pound girl endured were so severe that the highly saddened and disturbed staff felt to best to end her suffering and send her over the Rainbow Bridge, but not before showing her the love that she deserved to know throughout the rest of her life. Her original owner had to rehome her, and has now learned a very painful lesson about putting a "free to a good home" ad on Craigslist. Police are looking for the person(s) responsible for abusing and abandoning Puppy Doe on a street in Quincy, MA, and a reward of $7,000 is being offered for information leading to the arrest and conviction of them. Please call ARL of Boston at 617-226-5610, Quincy Police Detective Thomas Pepdjonovich at 617-745-5774, or email [email protected].
The Houston SPCA is looking for the person responsible for neglecting or purposely abusing a seven-week-old puppy. The tiny chow mix, now being called Sapphire, was heard whimpering in the bushes on Kingwood and Garden Oaks Drive near a Starbucks in Houston. A harness had been strapped so tightly around her wee body that it embedded itself into her tender skin. A maggot-infested infection was the result. She is also visually impaired, but is being treated and is expected to recover. Anyone with information should call 713-869-7722 or contact the Houston SPCA.
Sugar Ray was another badly neglected dog that died just hours after coming into Liberty Animal Clinic in Ozone Parky, NY. His rescuers believe that he had been starved indoors over an extended period of time before being tossed outside like yesterday's garbage. It was obvious that he had been someone's pet, because he had been neutered. His internal organs were too badly deprived of nutrients, and they gave out shortly after he was saved. If you know who is responsible for the sadistic murder of this dog, please call 347-722-5939.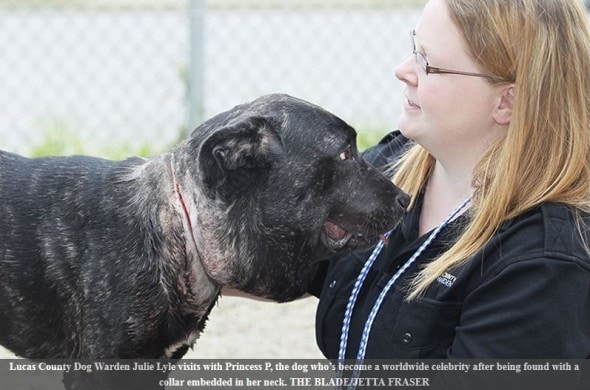 Princess P came into the Lucas County Dog Warden with a collar so deeply embedded in her neck that her face ballooned. Her lymph system and veins were cut off and fluid accumulated around her head. The Toledo Area Humane Society has been caring for her, and the swelling has gone down considerably. She remains ever sweet and ready to make a new friend. If you can help find the person who did this to her, please call 419-891-9777.
We know our fans would never harm animals the way these dogs have been, but please share, because you never know who of your friends may be friends with someone who would.