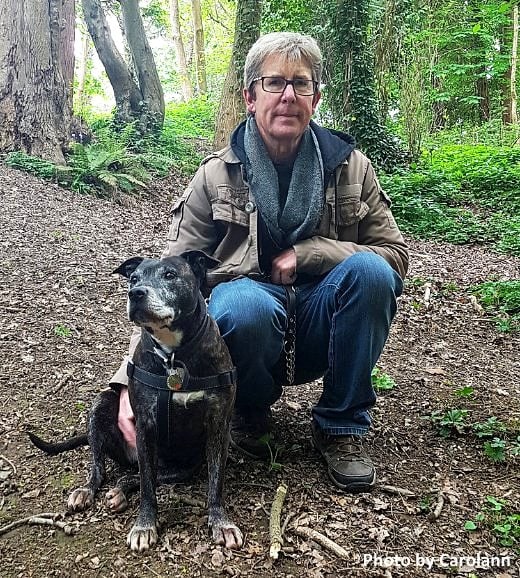 When Millie's dad had to go away for work for several weeks, she became really depressed.  So her human sister printed out pictures of him and tacked them onto stuffed toys.  It's clear from the look on her face just how much she loves them!
Millie is usually a pretty carefree dog, but she loves her papa more than anything.  He rescued her from a shelter about four years ago, and she's been his best gal ever since.  But she has separation anxiety, and a few weeks ago when he had to go out of town for work, she became despondent.
"Millie was becoming withdrawn and had stopped eating," his daughter Carolann told The Dodo.
So when dad would call, Carolann would put him on speakerphone so Millie could hear his voice and know he was alright.  But it didn't help; she would slink away, seemingly even more depressed that he wasn't actually there.  So Carolann tried a different tactic.
"I thought it would be a funny alternative to print his face off, laminate it and attach it to something," she said. "My sister's old room is full of toys so I figured those would be the best option."
And while seeing her dad's head on Patrick Star's body is a tad peculiar, they worked!  Millie perked right up when she was given her dad stand-ins.
"Millie absolutely loves them.  After sniffing them and playing around a bit she took them to her basket and rested her head on one of them. She definitely looked a lot happier than she has been."
Millie still has to wait a while to be reunited in person with her pops, but for now, she's at least smiling and sleeping well again.