A dog in India was badly mangled in a car accident; the bones in one of his legs had been smashed to smithereens, his lip speared through with a tooth.  He underwent surgery, and though for the most part had recovered physically, his essence seemed to have gone.  But given a bit of extra time and love, it became clear just how full of life he is!
Animal Aid Unlimited out of India has stepped in to assist with the rescue and rehabilitation efforts.  They've taken to calling him Jeremy, and aside from all of the really awesome work they already do, the work they did with Jeremy ended up creating a turnaround for the ages.
Along with the video posted to the rescue group's YouTube channel, the group said, "When we got the call to rescue a puppy who had been hit by a car, we found one of the most injured puppies we have ever seen.  One of his front legs was crushed and dangling by just the skin, he was covered in blood, and he had a huge hole in his face.  He was in so much pain that he kept on biting frantically at his broken leg and falling to the ground."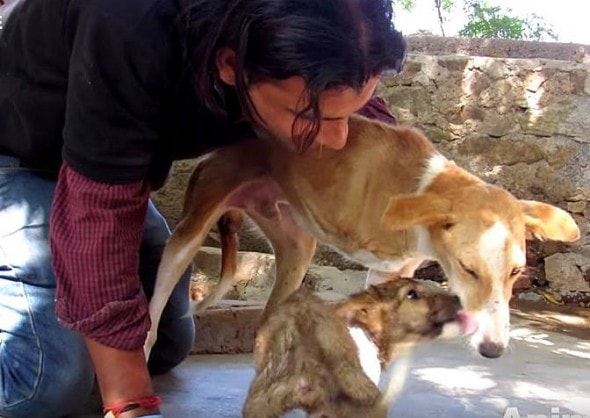 Jeremy may have been physically broken, but the poor dog was also emotionally and spiritually broken as well.  He didn't seem to have much interest in rehabilitation at all, and even though Animal Aid Unlimited tried everything they could think of, they just could bring Jeremy back around.
However, after much love and care, Jeremy did start to come around emotionally.  As soon as some of the pain from the terrible injuries he suffered started to fade, he began to show signs of live beyond just normal body function.  He bounced around a lot, and before long he was playing with the other dogs at Animal Aid Unlimited.
Please, consider helping Animal Aid Unlimited to continue the vital services they offer to the stray animals in India.  They really need every bit they can get, so no donation is ever too small.  To donate, click here, to see their Facebook page click here, or to go to their YouTube channel to check out more, click here.