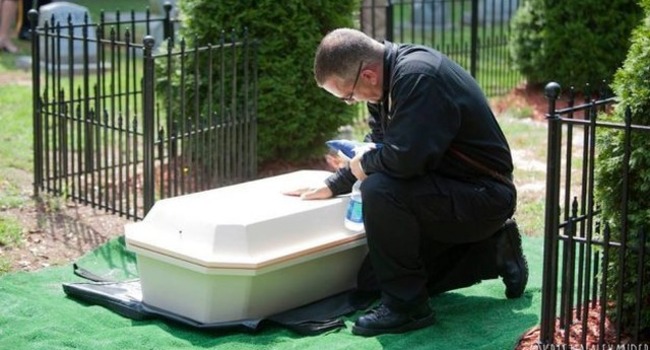 Eiko was a special police dog, and a fine K9 partner to to Officer Shawn Humphreys. Together the pair helped keep citizens safe in their job at the Lawrenceville Police Department in Georgia.
Eiko was beloved. And so when he passed away from cancer at just 8 year old, he left a hole in his community and in the heart of his partner.
"He was one of the truest forms of a real police officer," Humphreys said at a memorial ceremony last month, according to the Dodo.
Eiko made lasting impressions. One of them was on Kristin Sarkar, founder of an organization called Releash Atlanta, which helps find homes for shelter dogs. Eiko and his family had once visited her for a family photo shoot.
—————————————————————————————————————————————-
"I got to meet the Humphreys and Eiko," she tells The Dodo. "And he was such a great dog."
Not long after his death, the group decided to honor the dog with an exceedingly special act: saving another one.
There was a German shepherd on death row at a rural Georgia.The animal was injured, those there suspected it was a snake bite, was scheduled to be euthanized.
"We don't have a lot of funds, especially for an injured dog, especially with nowhere to go," Sarkar explained. "It wasn't a dog we could take."
But a short while later, after leaving him behind at the shelter, he and Releash Altanta Board Member Ariane McClure felt they needed to go back. They decided to honor the fallen police dog by rescuing this dog, who seemed to have so little hope.
"We have to go back and get that dog," she recalls saying. "Let's do this!"
Free from his sad fate, the dog was renamed EJ — for Eiko, Jr. — and given some necessary medical care. The Humphreys stepped up to the job of fostering him immediately.
—————————————————————————————————————————————-
"We had to have a place for him to go before we could save him," Sarkar says. "The whole thing aligned perfectly and we could get him into their home."
On his first night there, Sarkar got a text: EJ had decided to pass on the bed the family had made for him. Instead, he curled up right beside the Shawn Humphrey's chair. The very same spot Eiko used to curl up in.
Officer Humphreys will be getting a new K9 partner soon, so the family won't be able to keep EJ forever.
He will be looking for forever home. Get in touch with Releash Atlanta at [email protected] if you think that forever family could be yours.