"Thank you for your service."
It's something many of us think and say when we see or meet a veteran, and not at all far off from the gratitude we feel for our beloved dogs, who love us and our families so loyally and freely, some of them (service dogs!) serving literally, as well.
And though their presence in our lives is worth the pain we feel when we must say goodbye, the hurt and loss is very real.
So it was for Joseph, an Army veteran, and his family.
Joseph was stationed at Fort Bragg, NC, as an infantryman. He served two combat deployments, one each in Iraq and Afghanistan, during his three-year military career. His service included time as an airborne soldier, as well.
Now a civilian, Joseph lives with his family in Baltimore and works for the local Veterans Affairs hospital, continuing his service. When not at work, he spends time with his wife, Kelly, and two children, Madalynn and Maximus.
Not long ago, their family included a dog who, after a long life spent as a wonderful companion, began to slip into seniordom, and ill health. The time had come for them to say goodbye, and it was difficult on Joseph and everyone else in the household. They missed their longtime friend and family member and realized the value a dog brings. It was time to adopt a new pup into their fold.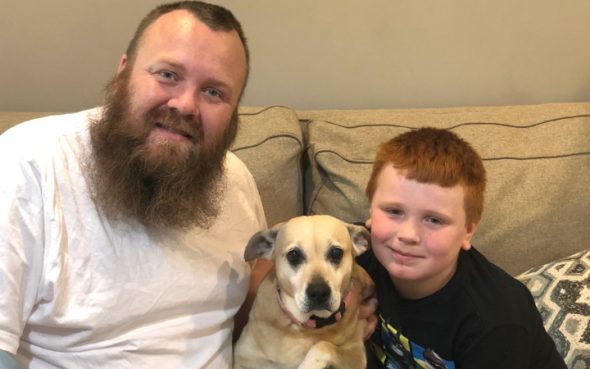 The combat vet began to look at available pets at the Baltimore Humane Society. Since 2013 the shelter has waived at adoption fees for veterans in our program to help the most overlooked dogs, and cats in their care find loving homes.
It was through the shelter that Joseph learned about Pets for Patriots and their partnership with so many shelters across the U.S.
"I wasn't aware of [the] program until I went to the shelter and saw a sign posted up," he says. "I read up on it and realized this was for me."
The bided their time, waiting for the right dog to come along, and on New Year's Eve of 2016 – she did!
Milan was more than 8 years old at the time, but Joseph and his family were not deterred – even though they had lost their previous dog to the natural thief of old age. They knew the Italian greyhound/terrier mix had lots of energy and spirit left in her.
So many adopters fail to realize that seniors make such wonderful family members! Mature dogs are among the most overlooked in shelters across the country.
Joseph knew Milan was the right choice for his family. Age was nothing more than a number.
"She's so gentle and sweet," he says. "She's a great friend to have. So loyal."
Joseph and Milan have even created their own special bond. For many veterans, the love shared with a companion pet is reminiscent of the camaraderie they enjoyed during their military careers.And it does not hurt that the Army veteran and his little charge share a favorite pastime.
"She's an old timer who likes to sleep. I like to take naps, so that helps."
Joseph is so happy with how Milan's adoption turned out that he recommends other veterans who are considering pet adoption do so through Pets for Patriots.
"I would recommend it," the Army veteran says. "It saved me money. The program allowed me to choose the dog I wanted."
Every pet is special and it is impossible to replace them when they die. But we can honor their memories by saving another four-legged soul. Joseph and his family did just that. Not only did they save a shelter animal, they gave hope and a home to a senior dog who needed it most. For her part, Milan did not disappoint.
"She's just great," Joseph says. "Such an amazing dog."