Locals had spent a week trying to rescue a trio of dogs from a mountain in Wrightwood, California.  Temperatures had plummeted to 20 degrees, and they wouldn't be able to survive much longer.  Thankfully, the Hope for Paws team was able to save them in time.
All of the dogs were timid and barked a warning, but Ginger, the smallest, approached Lisa Chiarelli and her proffered food.  Though their ribs protruded and they were undeniably hungry, Emma and Sage were too frightened to let their guards down.
Ginger was rescued first, but it certainly wasn't easy.  She flailed wildly, and Lisa tried her best to calm her down, so as not to alarm her sisters.  Eventually, she settled, and Lisa and Eldad Hagar were able to slip Eldad's lucky leash around her neck.  The change in Ginger's demeanor was like night and day, and she happily took a ride over the mountaintop on the human elevator.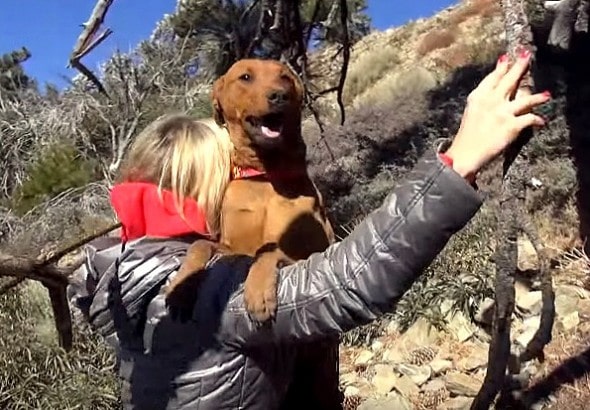 A live trap was left, but several hours passed and neither Emma nor Sage could be tempted.  Ginger was taken to the hospital, and while en route, Sage was rescued by other volunteers.  It took two more days, but Emma was finally rescued.
Sage and Emma were adopted, but Ginger is still waiting in her foster home.  If you live in the So Cal area and would like to give her a home, please click here to apply.