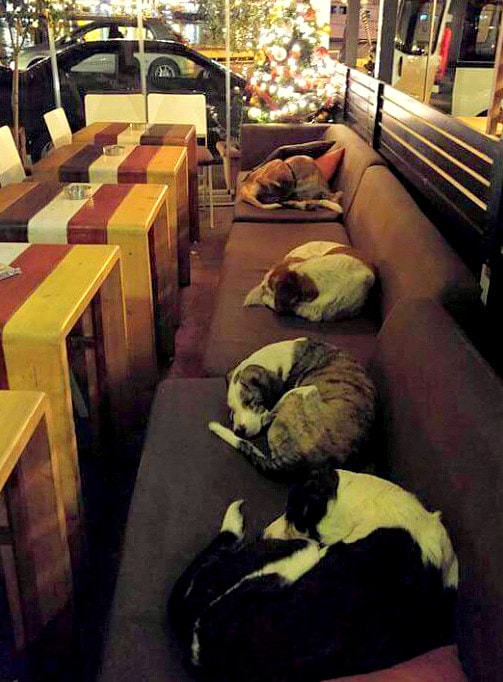 Recently, a photo of several dogs napping on restaurant booth seats has been making its rounds on social media.  Sometimes these photos have dramatized captions, but this one is true – there really IS a café in Greece that opens its doors at night to give street dogs a warm shelter.
"The locals have increased levels of solidarity towards environmental and humanistic issues," Eustratios Papanis, the photographer, told i100.co.uk.  "The new generation is more sensitive and well informed."
There are so many street dogs roaming around that it would be difficult to take them all in, but a café called the Hot Spot is doing what it can to help.  Lesbos has been very welcoming of Syrian refugees, and dogs in need are also being cared for.
So once the customers leave the Mytilene café for the night, dogs are encouraged to use the sofas and "sleep without being cold," according to Greek blog Zoosos.
"In the city there are many dogs. When the bar closes each night, the dogs come and sleep here," said a waiter at the café.  "We don't have a problem. From July, every night there is a dog on the couch."