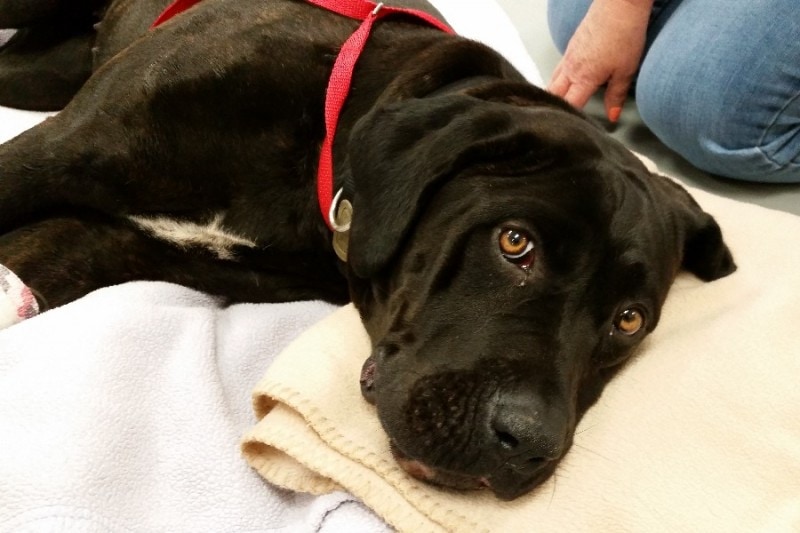 Three people from Redlands, California have stepped up not once, but twice to save the life of an injured dog.  Not only did they get Lucky out of the middle of the road and to medical attention in time to save her life, but when no one claimed her, they decided to do that too.  This way, she wouldn't have to be put down.
When Suzanne Grande's daughter saw the injured dog in the middle of the road while waiting for school, she knew something had to be done, and fast.  She called her mother at work to ask for help.
"She calls me a little before 10 in the morning and says, 'Mom, there is a dog in street.  She's bleeding.  I can't leave her.  Can you come do something?'" said Grande.
Suzanne started looking online for the nearest animal clinic to the scene of the accident.  This is right around the time Daniel Fenesan and Jody Hitchman arrived to where the young girl and dog were.
"I just went and I just looked and tried to sit with her to see if I could help her," said Fenesan.
That's when the three of them decided to bring the injured, two-year-old mastiff to the Redlands Animal Hospital.  There it was discovered that she had a broken pelvis, a broken jaw, some cracked ribs and bruised lungs.  Despite all the damage, Grande's daughter and the two other good Samaritans got the dog help in time, and a full recovery is expected.
This however, is not where the story ends for our three heroes and the dog they saved.  It was discovered that the dog have no real form of identification, nor was a microchip present on her.  This meant if no one stepped forward to claim her, she would have been put down.
According to Grande, "It just didn't feel like the right thing to do."
The three decided to claim her themselves.  They're also trying to raise enough money to pay for medical expenses and get her rehabilitated and mobile again.  Grande's husband has even set up a Go Fund Me page to help things along.  You can visit it for more information or to donate by clicking here.
"We are trying to do the right thing for this animal and we are hoping the owner shows up," said Jeff Grande.
For now, the three have one real interest in mind, and that's getting the dog that they've nicknamed "Lucky" back on her feet and back to her family.  Even though Lucky had no id or microchip, she was wearing a collar and looked to be well cared for, injuries aside.