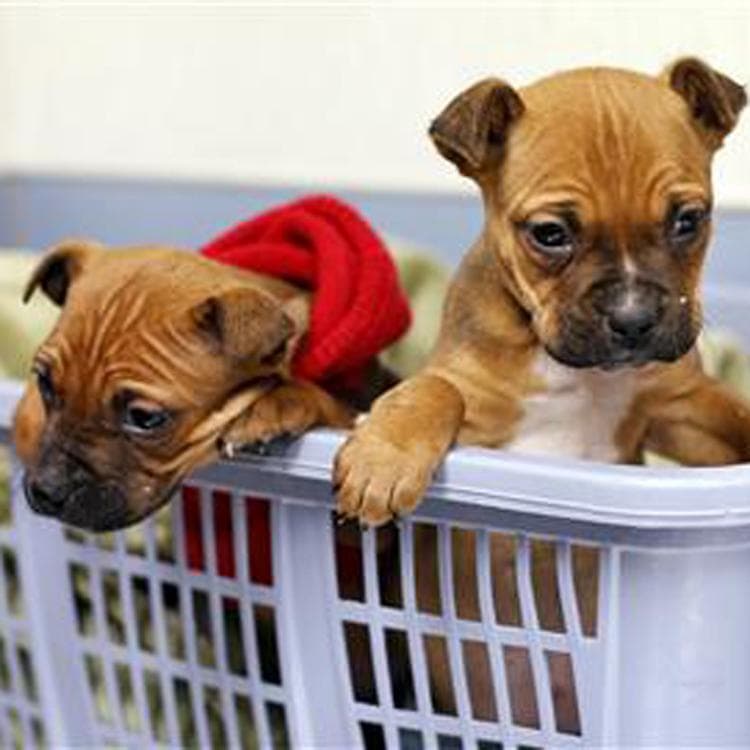 Three puppies that were abandoned at Christmas in the freezing cold of Toledo, Ohio are now on the mend.
Annie Franklin woke up the morning after Christmas to find something unexpected at her doorstep. A straw-filled plastic tote had been left on her doorstep and inside was three puppies. There were no footprints in the snow suggesting the puppies had been left there for hours in freezing temperatures. She called Toledo police for help.
"They were so little," said Franklin. "I couldn't imagine who would ever do this. I couldn't believe it."
The puppies were rushed to Lucas County Canine Care & Control. Two of the puppies were alert and doing well, but one of the male puppies was unresponsive.
"His temperature wouldn't register on the thermometer and he was cold to the touch," said shelter director, Julie Lyle. "He was barely alive."
The shelter did everything they could to warm him up, but things weren't looking good.
"It was at least an hour and a half with no movement, then he started moving his head around and shivering," said Lyle.
Lyle took the puppy, nicknamed Pupsicle, home with her at night for extra care.
Soon all three puppies were taken in by Lucas County Pit Crew, an animal rescue.
"We just couldn't say no," said Jean Keating of Lucas County Pi Crew. "When puppies are that young, they've got to get out of there. The pound is no place for 3-pound puppies."
The puppies are now on the road to recovery. They all have put on weight and are eating well. Despite suffering from hypothermia there are no continuing problems from that. The puppies will need a few more weeks to recover and get healthier before they will be ready for adoption.
Anyone interested in adopting one of them can contact Lucas County Pit Crew at [email protected] or visit their website.