Starved to the brink of death, a stoic Bulgarian Shepherd has defied the odds, making a miraculous recovery and prompting praise for the shelter workers who went the extra mile to save him.
Update (3/13/12) Tiho is home.
The happiest of ends has come for the saddest of stories. Tihomir – the doomed Bulgarian Shepperd that we took in last summer sends greetings to all that love him here in Bulgaria.

Tiho explores his new territory
Tihomir's new name is Goober and he has his private little ranch – a few acres of land, his own swimming pool and a gardener! My goodness, we so wish that we could show these photos to the people who abandoned him to die just 6 months ago…
Our regards to our colleagues at Ovidefarm, Holland who are working miracles for the dogs in Bulgaria!
—
Update (1/31/12): Tiho has been adopted! We received a brief note from Animal Rescue Sofia that we thought you would appreciate.
Dear Life With Dogs,
Tihomir has an adoptive family waiting for him in Holland. He will be leaving Bulgaria on 02.02.2012 and should be in his new home 3 days later.
He has been rehomed through a wonderful Dutch organization we work with – the kind team of Ovidefarm. Mrs Selma Loos who runs the facility has personally taken the initiative to find the best of homes for Tihomir after his scary ordeal. We were hoping to rehome Tihomor in Bulgaria, but so far there hasn't been a single local inquiry for him.
This is the website of the kind people in Holland who are helping us rehome some of our dogs: http://www.ovidefarm.nl/baasje-gezocht
Kindest regards and one more time – thank you for spreading the word about our work,
Stella
—
From his rescuers:
Look carefully. This is the tormented body of a golden heart – the sweetest and kindest of dogs, abandoned to die by his humans – ill, miserable and alone.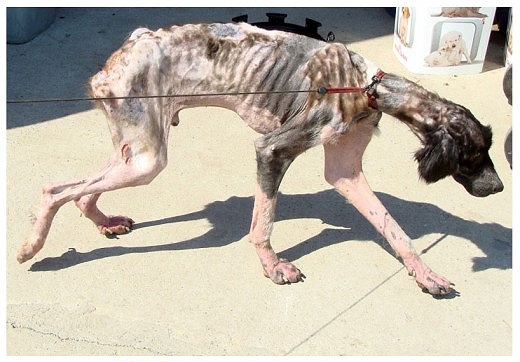 Now look again.
Could it be? Is it really the same boy we are seing? Yes! He came to Animal Rescue Sofia in the end of August. We have been caring for him ever since.
Today we proudly present to you – TIHOMIR IN ALL HIS GLORY – healthy, happy and completely recovered:
Tihomir has been absolutely amazing. A kind, gentle soul – he is like a little puppy learning to live and love. He is a big, clumsy boy, 1.5 years old and totally baby-like. He is so playful, so curious, so friendly – everything is new and interesting to him.
Having lived on a chain for a year, then in the shelter clinic for another 6 months, Tiho is absolutely mad about people, hugs and walks. He will play non-stop with you. When the weekends come, the volunteers give him time to romp around and he embraces the opportunity to have fun.
A recent video of Tiho at play.
Sofia Rescue says Tiho is a miraculous angel, and that the family who chooses him will be adopting a big, friendly teddy-bear. Of course, given his location (Bulgaria) the majority of our readers will not be eligible to apply for the opportunity to adopt this four-legged wonder, but there is still a way to help: donate.
Like most animal rescue organizations, Animal Rescue Sofia relies upon donations to fund operations. In other words, the money you send has a direct impact on the welfare and safety of unwanted Bulgarian strays like Tihomir – and so many others left to fend for themselves.
We encourage you to support Animal Rescue Sofia with a donation, and to share Tihomir's story: in a world rife with cruelty and apathy, his is a journey that bears repeating, and his recovery is a testament to the dedication of those who showed him kindness when he needed it most.