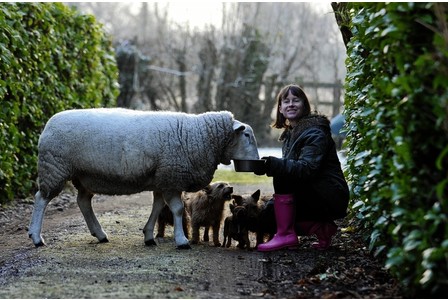 Timmy is a sheep dog. He lives on Clover Leaf Farm in Aston-on-Trent, Derbyshire, England where he loves going for walks, eating treats and just being one of the dogs. Timmy has the heart of a dog, but he was born a sheep.
Timmy was orphaned at just a few days old. Samantha and Eric Perry bottle-reared him and he originally lived in their home. Now 18-months-old and 200 pounds Timmy lives outside in a kennel along with the farm's six dogs.
Timmy thinks he's just one of the dogs which include a Yorkshire terrier named Poppy, a Shih Tzu named Daisy-Mae, a Cairn Terrier named Tyson, a Jack Russell named Sapphire, a Jack Russell/Yorkshire terrier cross named Barney and a Chihuahua named Pandora.
The Perry's other dogs accept Timmy as one of the pack. "Timmy definitely thinks he's a dog – he always has," said Samantha Perry. "He will eat absolutely anything we give him but his favorite food is dog biscuits. He absolutely loves them. When we take the dogs for a walk, he thinks nothing of coming along with us."
Timmy loves being one of the dogs and the Perry's are happy that he is happy. "We are used to all these animals running around anyways so why not have a sheep joining in the fun, too?"