One of the most iconic moments in Disney film history is at the beginning of The Lion King when Rafiki thrusts young Simba in the air for all his subjects to see.  It's been emulated by thousands of people over the years, and Tom Brady recently filmed himself mimicking the scene with his family's newly adopted puppy, Fluffy.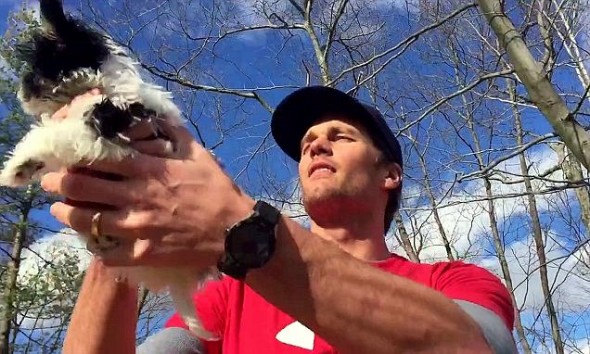 "The kids are over the moon with our new family member.  Fluffy is pure joy," Gisele Bündchen said on Instagram.
The pup was adopted from Wags and Walks, a rescue group in LA. Tom and Gisele also have two other dogs – pit bull mix Lua, and Scooby, a beagle they adopted last year.
"Thank you @wagsandwalks for all you do and for letting us rescue this little angel," Gisele said.
The couple dotes on all their kids – human and dog.  Gisele's Yorkie, Vida, who passed away in 2012, even had a part in her 2009 wedding to the Patriots' quarterback. (I suppose I can take a break from hating him during the off-season.)
"Nants ingonyama bagithi Baba.  Sithi uhm ingonyama."  (Here comes a lion, Father.  Oh yes, it's a lion.)  That's the Zulu chant at the beginning of the Circle of Life, in case you were wondering.  I know you were – we've all faked our way through that line.