As the owner of lovely but also slightly chubby dog, I cannot help getting a bit nervous about the increasing focus on pet obesity. I bring him out for daily walks, but when we are home he normally just moves from his spot on the carpet and into the kitchen to lap some water from his dish. And when I'm at work, I actually do not know how much he really moves. My fear is, not much! I would not call my dog overweight (yet) but I must admit that I'm spending more and more time considering how to get my dear friend up and moving, to prevent overweight.
Some weeks ago I heard about a product called Tractive MOTION – apparently some sort of FitBit for pets – which I have now tested on my dear friend for around 10 days. The goal was to see how active he really is each day and how much he needs to do to stay fit.
I bought the MOTION device in the Tractive web shop for $112 (€89.99). The MOTION Pet Activity Tracker is a small and light device (only 7 g) fitting for both cats and dogs weighing around 2 pounds (2 kg) or more. The MOTION devise tracks the activity of your pet 24 hours a day, alongside a few other statistics such as temperature and ambient light, and then syncs that data to your smartphone. What I really like about the MOTION device is that it's quite easy to attach and understand. Simply download the MOTION app for either iPhone or Android and you will be told what to do (unfortunately, the device is not compatible with Windows Phones). Another thing to note is that MOTION only works in combination with a Bluetooth Smart ready smartphone.
Setting and tracking goals
After a few days of use, I quickly learned my dog's activity level. The device told me when in the day my dog was lazy, moderately active or highly active. On my Smartphone I got updates on his activity level and whenever he was active.
It was easy for me to see that my dog was quite lazy when I was not around, meaning that I had to focus much more on activities when I'm home – good for both of us! For increasing the activity, the MOTION Tracker provides a feature, called Pet Points. With the Pet Points you can set a daily goal to keep your pet active and healthy. The progress towards the goal can be checked directly on your MOTION app and the device notifies you whenever your pet is far from reaching his or her goal. Of course, you also get notified when the goal is reached. In my case, I figured out, that to reach the daily activity goal I have to be a lot more active with my dog.
Who is in the lead?
As an additional feature, Tractive MOTION provides you with a leaderboard where you can see how active your pet is compared to other pets worldwide. I would not say the leaderboard is a necessity but quite a fun way to get you and your pet motivated.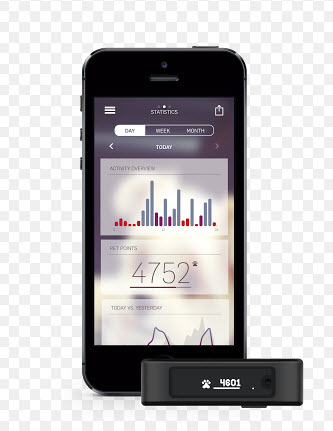 A few extras
The battery of the MOTION tracker will go 7 days on a single charge. Furthermore, it's waterproof which is almost a must for people with a water-loving pet. The MOTION device comes with a black silicon clip that holds the device securely on your pet's collar and on the USB-Charger. The silicon clips are available in 3 different colors and can be purchased in the Tractive web shop.
All in all, I really liked using the MOTION device as it gave me insight in my dog's activity level during the day and how to improve it. Furthermore, it really motivated me to reach the daily/monthly goals. I would definitely recommend tractive motion for anyone who wants to learn more about their pets' habits.