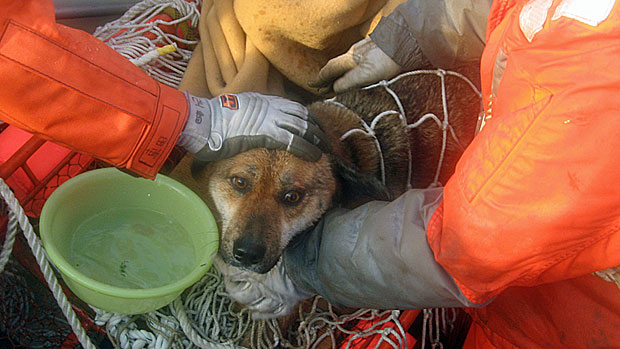 Breaking news from Japan offers a hopeful tale of survival as the Japanese coast guard rescues a pet dog that miraculously survived three weeks alone at sea.
The dog was spotted on the roof of a house 1.1 miles from the coast of Kesennuma in northern Japan. A local television station captured aerial footage of a brown medium-sized dog running around on the roof of the house, the only part of the home that remained above water.
After the helicopter that spotted the dog started running low on fuel a coast guard rescue boat was called in. The frightened canine hid and managed to evade capture for hours before a rescuer was seen emerging from the home clutching the dog. The coast guard was not able to identify who the dog belonged to, because the collar it was wearing did not have tags.
The exhausted pooch expressed gratitude and captured the hearts of all involved in the rescue when, once safe on the coast guard vessel, it began kissing its rescuers' hands.
View raw rescue footage (video loads in 2-3 seconds):