In Nasville, Tenn., a landlord headed out to check on one of his abandoned properties and when he got to there he was not prepared for the scene he found. There were two abandoned Chihuahuas inside the home, covered in blue plumber's glue and left to their own faith.
The discovery was made on Jan 29, 2014, and the concerned property owner immediately called authorities to have the pets rescued and to seek justice for the innocent pets.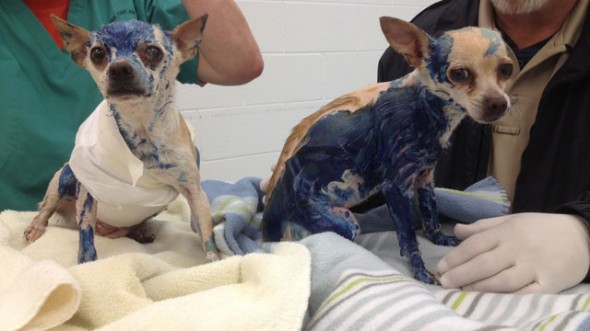 Animal control officers are currently investigating the case and they hope the community can step in to help catch the criminals.
The two dogs are female Chihuahuas, who unfortunately got the majority of their bodies painted with the strong adhesive. The dried glue caused them a lot of pain. Veterinarians at Metro Animal Control had to shave off some of the hardened glue.
According to veterinarian Dottie Dively, it could take weeks for the rest of the glue to come off the dogs' bodies.
The innocent pets have been named Sapphire and Opal.
"There's no reason to do this to an animal," cruelty investigator Billy Biggs told WKRN News.
Authorities believe the crime was committed by juveniles taking advantage of the abandoned and unsupervised home.
If you have any information that can lead to an arrest, please call Metro Animal Control at 615-862-7928.
Opal and Sapphire will be available for adoption in a few weeks.