We all know how scary and sad an animal shelter can be. Sometimes, people who want to adopt a pet are scared to go inside shelters to meet a dog and save his or her life. Why? Because they know how depressing these places can be and humans don't want to face the reality these animals suffer. Humans don't want to see and feel the animals' pain. We don't want to come out heartbroken. If we feel this way, can you imagine how the abandoned, surrendered and stray dogs living in shelters and hopelessly wait for someone to save them feel like? For them, life inside is terrifying.
In Orlando's Orange County Animal Services (OCAS) two mixed breed dogs that didn't know each other prior to arriving at the facility, have found comfort in one another. They, like all the other animals in there, hope to get out alive.
OCAS is a high-kill shelter and both pets have expiration dates. Animal lovers across social media networks are sharing the dogs' photograph, making it go viral, and hoping these sweet dogs get out of there soon.
Both dogs are three-year-old males. Darby (ID#A299449) arrived on August 27, 2014, and the other dog for now unnamed dog (ID#A 299546), arrived on August 28th.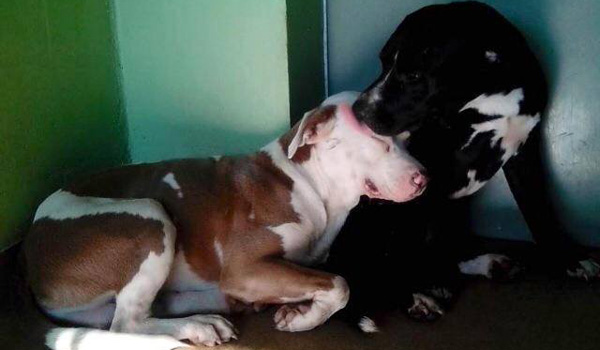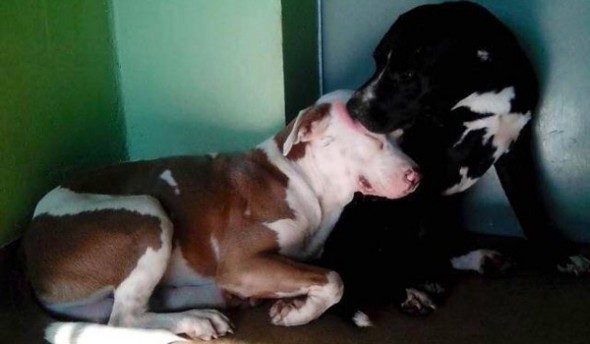 If these dogs are not rescued or adopted before September 4th, they will be euthanized.
Are you willing to save their lives?
For information on adopting these dogs please contact OCAS website. OCAS is located on 2769 Conroy Rd, Orlando, Fla.