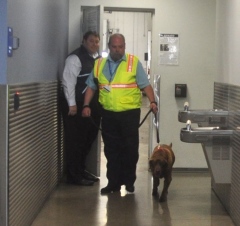 It was nearly two years since Sgt. Jason Bos had left Fort Lee in Virginia, and was forced to say goodbye to Cila, a bomb-sniffing chocolate lab, he called Cici.
MWD Cila M389 is her official name according to the military and the M389 is visibly tattooed on her inner ear.  The two served together in Iraq, and have also screened sites for presidential visits across the United States.  This was all until Bos suffered a back injury forcing him out of the Army in 2012.
When the injury happened, Cila was only 5 years old.  This is barely "mid-term" as far as a career in the military as a bomb-sniffer is concerned.  It forced Bos into early retirement, and Cila remained on active duty.
Yesterday, on the 30th of April, 2014, any concerns that Cila wasn't going to remember him had been immediately erased.
Bos admits to being both nervous and excited to see Cila.
"My heart is beating so fast," Bos said, just before Cila jumped straight into his arms, and wiggled as the two embraced.
"I was very excited.  She looked at me, she started smelling me, she knew me."
Bos and Cila had spent months training together at the kennels at Lackland Air Force Base, before several active deployments overseas.  Cila has had special training to be able to sniff out explosives, off leash.  She simply responds to Bos' verbal commands, and hand signals.
On, Tuesday, Bos had said, "I'm getting really excited to see my dog.  It doesn't always happen.  I don't know anyone else who got to have their dog when they got out."
Normal bond forming between dog handlers and the rest of their unit, due to the fact that they are often assigned to multiple units.  They do however, form great bonds with the dogs.  Often, Bos spent a good portion of his off-duty time playing with Cila at the kennel. Handlers and their dogs, while stateside performing duties like checking sites for a presidential visit, get to bunk together in hotels.
"They tell you not to get too attached, that they're not a pet, they're a tool to help keep people save," said Bos.  "But it's hard."
Most of the time, when a soldier is ready to finally go home, the dog often stays behind.  They work, basically, until they are no longer able to.  It's usually about seven years.
When Bos was diagnosed with the degenerative disc problems in his lower back, he asked if he could take Cila home with him.  Bos had planned to become a police officer when he returned from the military.  Now, he takes business classes at a college near the home he shares with his brother in Grand Rapids.
Bos became friends with the handler Cila was pared up with after he left the military.  He got regular updates on her as she moved from Fort Lee to a deployment in Germany.  About one month ago, he saw that Cila was due to be retiring soon, and Bos was thrilled to receive a phone call from the kennel master at his former base, asking if he'd like to adopt Cila.
"I said 'Yes. What do I have to do?'"
After filling out the proper paperwork, Bos contacted both the American Humane Society and Mission K9 Rescue for help with the logistics and funding to get Cila home to the U.S. from Germany.
Cila had been introduced to Bos' family while he was on a stateside base.  Bos' father built a dog house, and his mother has a massive yard for Cila to play in.  At home with Bos, Cila will have the run of the house.
"She's been sleeping on concrete in a kennel her whole life," said Bos.  "She's going to get to be on the couch, everywhere.  She's going to be living the civilian life."