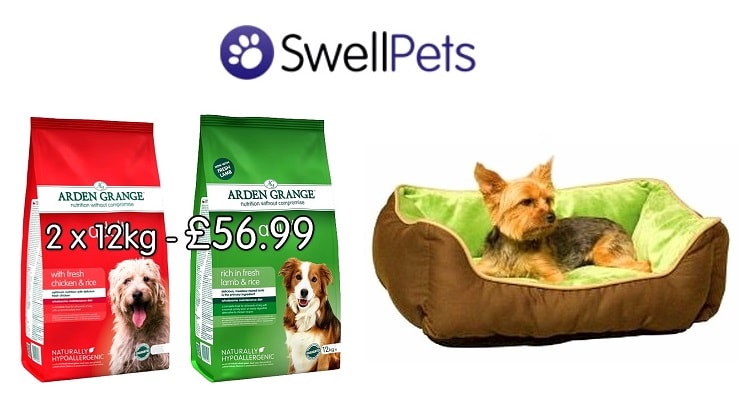 It's getting to be that dreaded time of year – winter.  Who feels like spending extra time out in the cold and mucky weather shopping for pet food and supplies when you can have it all delivered right to your door?  They even offer next day delivery, free delivery on orders over £29, and 60 day returns!  The company is UK-based, so place your order today!
If you're in the UK, Swell Pets is just the thing you need.  They offer a wide variety of pet food, toys, bedding, and other dog and cat accoutrement. Having next day delivery (on the mainland) is ideal for anyone, but particularly for those who have difficultly lifting heavy objects; do not have a vehicle and find lugging large bags of dog food on buses trying; are very busy and do not always have time for a grocery shop.
One of the best things Swell Pets offers is the K & H Self Warming Pet Lounger.  Small dogs and cats alike enjoy these beds. They have a soft microfleece exterior and a metalized interior insulation that radiates animals' body heat back to them. Perfect for those frigid days when the wind cuts right through your house!
This review comes from one happy customer:
I'm currently dog sitting for my mum's dog Jack. He is getting on in years, has some joint problems and probably the most pampered pooch I have ever known, so the Self Warming Pet Lounger seemed ideal! He seemed to settle in to the bed easily and looked very comfortable. The bed has a raised edge that adds to the comfort factor, he rests his head on this.
The bed is machine washable, great news for those with dogs who can get muddy on the driest day, and perfect to keep the bed looking good. The bed also has a non-slip base, so it didn't move around on my wooden floor.
There is also the K & H Quilted Thermo Bed, which comes in a variety of sizes and will be especially appreciated by older and arthritic pets.
Here are a few reviews of their services:
Excellent and very fast service, will definitely use again
We hadn't used this particular supplier before but because our normal one had run out of stock we didn't have a lot of choice….but what a great decision. They have been absolutely excellent – easy to use web site, free postage on our order, plenty of information by email to keep us up to date as to how things were progressing and next day delivery. Highly recommended.
Mr. Bryan Bell
Efficient, great prices and good customer service
I have used Swell Pets several times now and the service is very good. Due to manufacturing difficulties I have had problems with a couple of Orders but Swell Pets have always responded quickly with free replacements. I cannot fault the service or the prices.
Mr. Alan Fidler
Used regularly. Reliable, good prices, no need to look elsewhere
I have used Swell Pets for over two years and have never had any issues with their products or service. Ordering is a breeze, delivery is as advertised, why would I want to shop around when a supplier "does what it says on the tin."
Iain Leadbeater
Brilliant service
Having struggled to find Nature diet on other web sites I came across Swell pets by chance. Now having ordered from them, I won't hesitate to use them again. The website was very easy to use and free next day delivery was fantastic. Thank you Swell pets!
Miss Lorraine Biddle
To start shopping, click here!  You can also follow them on Facebook.