Back in August we told you about Olive, the Yonkers Animal Shelter's longest resident.  She's an absolute doll, but adoptions never panned out, so from the time she was a puppy, she lived behind bars at the shelter.  Until now.
This comes from a tribute by the Yonkers Animal Shelter:
Miracles don't happen. You make them happen. They're not wishes or dreams or candles on a cake. They require you to never stop hoping, never stop believing and never stop trying. They're not impossible, but sometimes even miracles take a little time. This one took almost 11 years.
We can't believe we finally get to type these words. OLIVE HAS BEEN ADOPTED. Yup, you read correctly. Olive has left the building and tonight, for the first time in almost 11 years, she will sleep at home, belonging to someone who will love her forever.
As you can imagine, it is a bittersweet day at the shelter. While we are beyond thrilled for her, we will selfishly miss that sweet face that has been part of our lives for so long. Many tears have been shed here today, but for a change they are happy tears. While Olive has been very loved and well cared for here, a shelter is not a home.
No longer will Olive be alone for 20 hours a day, no longer will she close her eyes behind bars wondering if tomorrow will be her day.  TODAY was her today. Today her life was forever changed and that would not have been possible without all of you who like us, never gave up and continued to share her story until she got home.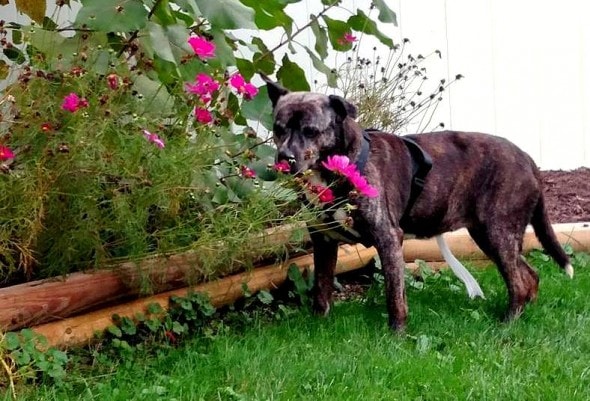 While Olive's new mom is not a stranger to our shelter, (she was a savior to one of our previous dogs), she only saw Olive's story through the power of your sharing – SHARING CHANGES LIVES.  Happy life sweet Olive… thinking of you sleeping curled up safe at home tonight just warms our soul.  You waited way too long, but sometimes best things in life are worth waiting for.
It's taking time to adjust to her new life, but that's hardly a surprise.  However, she instantly bonded with her new family, so Olive will likely settle in as an actual family member in no time at all.