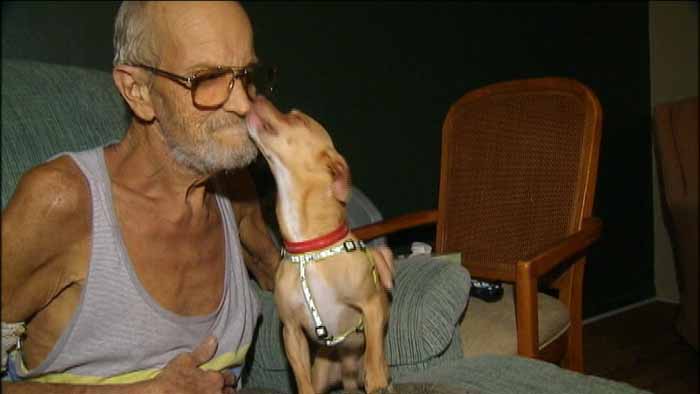 With only days left to live John Simpson's dying wish was granted Friday night when his lost dog was found and the two were reunited.
Last Sunday, Mr. Cutie, dug a hole under the fence and took off when a neighbor was watching him. Friends of Simpson believe Mr. Cutie was trying to get to Simpson who is currently in hospice care. Simpson has pancreatic cancer and doctors have given him only days to live. When Mr. Cutie disappeared he was devastated and all he wanted before he passed away to see his beloved dog again.
Mr. Cutie was found running near where he had escaped from and the people who found him put a picture of him up on FidoFinder.com. Someone saw the posting and thought the dog might be Mr. Cutie, but no one was sure. When the dog was brought to Simpson though it was clear, it was Mr. Cutie.
The reunion was caught on video and the dog lights up when he sees Simpson, clearly excited to see his owner again.
"I'm about to cry," said Simpson.
Now Simpson can pass away in peace knowing that Mr. Cutie has been found and is safe.