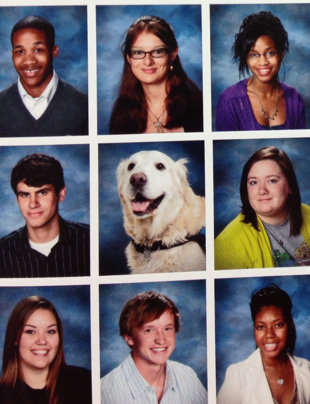 After over four years of service at Portage High School in Indiana a comfort dog named Prince is retiring. To honor him Prince's photo is in the yearbook with all the other graduating seniors.
The nine-year-old golden retriever has worked in the guidance office with his handler Tim Kunstek, a counselor at the high school. He is one of the Lutheran Church Charities K-9 Comfort dogs, who have had a busy year offering comfort to the victims of tragedies all over the nation. Most recently they provided comfort to the victims of the Oklahoma tornadoes.
When he isn't providing comfort to trauma victims across the nation, Prince goes to school and works with Kunstek in therapy groups. He spends his morning greeting the students as they arrive at school and then spends his day assisting Kunstek with his counseling sessions.
"It's pretty phenomenal how much the kids love him," said Kunstek.
To honor and remember all he has contributed to the school Prince had a professional yearbook photo taken like all the other students and is in the yearbook with the rest of the class of 2013. On Sunday Prince will lead the graduating class onto the football field for their graduation ceremony.
All though Prince is retiring a new dog is waiting to fill his place. Isaiah, a 1-year-old golden retriever is training to become Prince's replacement.