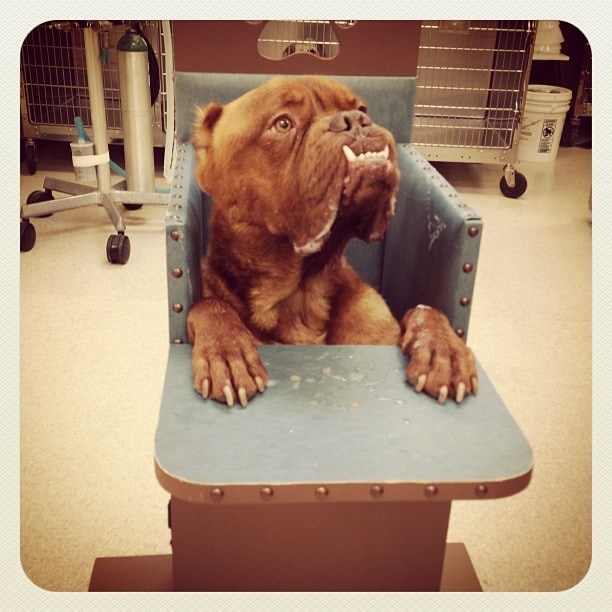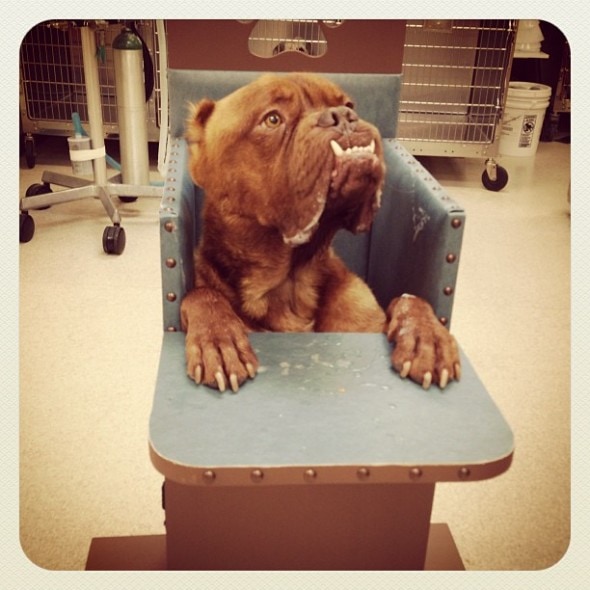 A few weeks ago we brought you the story of Hooch. A stray dog rescued by Marley's Mutts Dog Rescue who had endured the horrible act of having his tongue cut out. Thanks to his rescuers he is now learning to eat on his own and is on his way to a better life.
Zach Skow is the Executive Director of Marley's Mutts Dog Rescue. Several weeks ago he rescued Hooch from the Kern County Animal Shelter.  The French Mastiff was in bad shape. Likely the result of being used as a bait dog, his tongue had been removed and his ears had been cut off.
With the help of Zach and the rest of the amazing team at Marley's Mutts Dog Rescue Hooch is now having a chance at a better life.  Without a tongue eating was impossible for Hooch so a feeding tube was initially put in. Now though Hooch is learning to eat on his own with the help of a Bailey Chair.
Earlier this week Skow took the video above of Hooch eating in his Bailey Chair.
"The most wonderful video I've ever recorded in 5 years of dog rescue!" Skow said of the video.
The chair makes it possible for Hooch to eat by sitting him upright so gravity can help him get his food down.
"The progress with the Bailey Chair and manual feeding has been a huge step in the right direction because anyone can do it," said Skow. "It's like giving a dog a treat, but you do it over a period of ten minutes and at the end of it he has four cups of food in him."