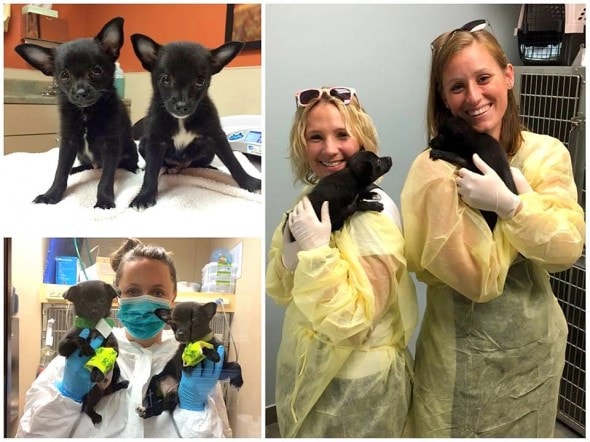 We've been following the progress of the parvo puppies, who were heartlessly tossed in a box and then dumped in a Chicago alley on a scorching hot summer day.  Every day they're getting a little better, and we're pleased to inform you that they are now in a loving new home – together!
This is the latest update from Trio Animal Foundation:
Numees and Fox have gone to a foster to adopt home… together! Their new mom is head over heels in love. At the same time the puppies were deemed healthy enough to leave the clinic we received a wonderful application to adopt them both. Their future mom understood that they couldn't be out in public for about 10 days until they are no longer shedding the deadly virus, and was open to all our suggestions about how to handle their care. When their new mom met us at the vet to meet the puppies, we knew right away it was a done deal! 
TAF let the puppies go as foster to adopt so we can continue to cover their medical care. Over the next 6 weeks the puppies will have a few appointments to finish their vaccination series, and then will be spayed/neutered. At that time we will finalize the adoption! 
This incredibly lucky brother and sister pair were sent home with crates, ex-pens, pee pads, toys, beds, food. Their new mom scooped them up out of their kennels and off they went to their forever home! More than once, these beautiful puppies beat the odds and we are thrilled that they have received a second chance to live happily ever after.
A million thanks to everybody that donated towards the care of Numees and Fox. Without your donations, we don't know what we would have done. A special thank you to Mary P. who matched up to $2,000 in donations for this pair. Since the puppies' medical bills unexpectedly exceeded $4,000 in the first week of their care, let's just say that we were financially put between a rock and a hard place.
Thank you for all of the positive thoughts and prayers, too!
(Numees is the little female pup with white tips on her paws. Fox and Numees' mom is on the right in the photo.)