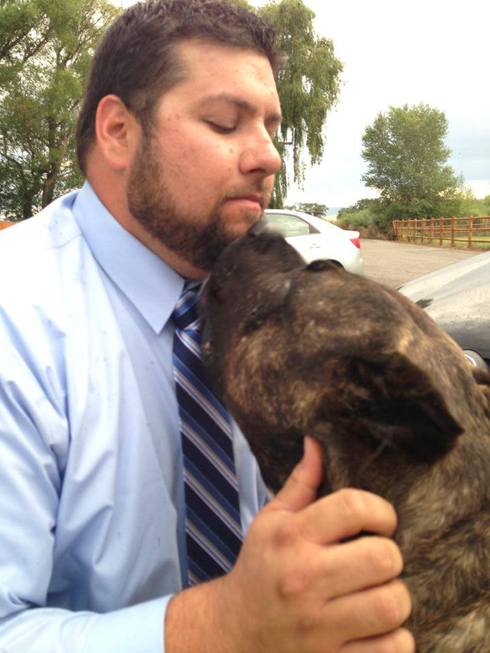 We brought you the original story in November, and an update in June, and now we are pleased to bring you what is hopefully the conclusion to this saga: military veteran Jeremy Aguilar and his service dog Dutch have seen their day in court and been found not guilty.
Last year Dutch bit a woman who beat him after he got into a fight with her dog. Rachel Daake was Dutch's previous owner, and he had been left with her while Aguilar took someone to the airport. The woman's account of the incident is highly questionable, but here is a brief summary of what she says took place:
While out in the yard, American Allaunt Dutch attacked a pit bull in Daake's yard . To get Dutch to stop, she hit, kicked and punched him. When that failed to work, she beat him with a metal tiki torch.
"I started punching him in the face and kept punching him until my hands hurt so bad I couldn't hit him anymore,"she said.

She was able to drag him away by his collar, and once inside proceeded to clean the blood from his face. He then bit her in the thigh, and when she tried to get away, he continued to attack her. She barricaded herself in the bedroom, and Dutch broke several pieces of furniture trying to break down the door. She called her fiancé, who arrived with his friend. They brought the other dog inside, and Dutch attacked it again. The second man repeatedly struck Dutch with a wooden picture frame until he stopped. Daake later went to a hospital where she reportedly had about $25,000 in injuries.
The sequence of events made no sense – if Dutch did attack the other dog, which may have happened, why would Daake immediately try to clean the blood off Dutch's face instead of tending to her injured dog? Where were the vet records for her dog's injuries? Why would the primary concern be cleaning blood from the face of a vicious dog she just savagely beat? Would she not feel that she would have been in danger doing such a thing?
Aguilar battles with post-traumatic stress disorder from his time spent in Iraq and Afghanistan. He also is disabled (it has not been made known how), and AFTER Dutch's alleged attack, he went on to be trained and certified as a service dog. A highly aggressive dog would not be a likely candidate for such a certification.
Despite this, the Montrose, Colorado Municipal Court ordered that Dutch be destroyed. Aguilar refused to let that happen, and would not surrender him. He took his dog to an undisclosed location. Because of his failure to comply, an arrest warrant was issued for the vet. In June he relented and turned Dutch over in a final effort to win the necessary appeal to save his dog's life.
His appeal was successful, and Aguilar and his wife Heather were finally reunited with Dutch for good. A jury of three women found the pair not guilty when it was learned that Daake has a history of abusing dogs. The Aguilars will soon be moving far from Montrose and the nightmare they have been living for the last nine months.