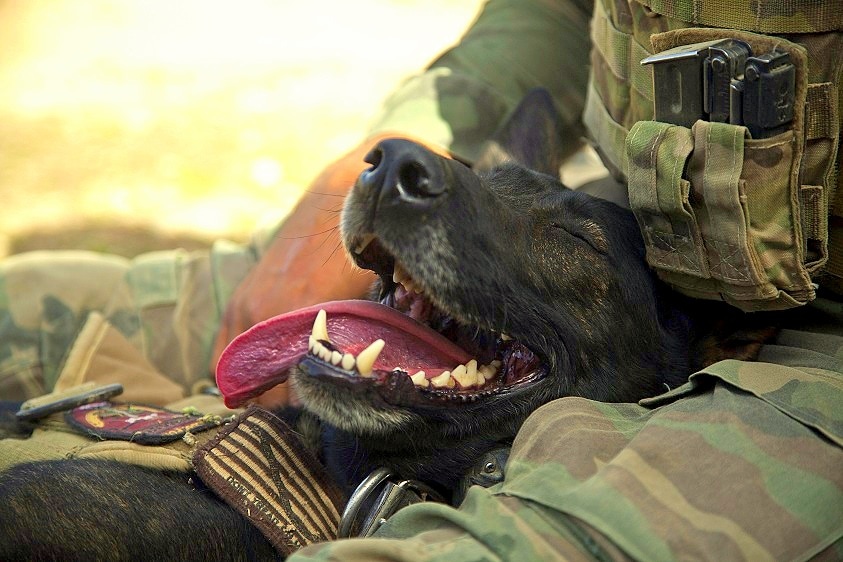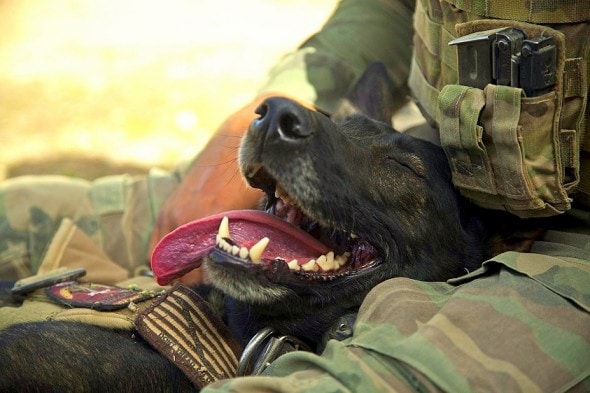 ————————————————————————————————————————–
Even though combat dogs save about 200 human lives during their service, rather than be given a hero's welcome home, they are often left in overseas war zones once they are no longer "useful."  This treatment is appalling, especially considering the number of soldiers who would love to adopt them.
In his column for USA Today, Jonah Goldberg exposed a little-known secret of the US military:  when combat dogs become too old, too traumatized (PTSD), or too injured, they are often reclassified as military "equipment" and left to perish in shelters.
"It is one thing to ask these warriors to say goodbye to their dog when it is still on active duty and is assigned a new handler, which often happens," Goldberg said.  "It is quite another to ask them to leave these dogs behind when the dogs are effectively abandoned overseas, left to languish in shelters — or worse. That's why handlers are sometimes forced to make incredible sacrifices to get their four-legged comrades home on their own."
"It bothers me that these dogs, who have served our country with courage and with valor and with honor that these dogs are referred to as equipment," said American Humane Association president Robin Ganzert. "We applaud the Air Force agreeing to make the change in their manuals to get them out of that equipment status."
In the US, about 2,000 dogs are on active duty overseas at any given time, and upwards of 400 retire each year.  In the UK, many of their retirees are brought home only to be euthanized.
Army Sergeant David Heyhoe and his explosives search dog Treo are two of the lucky ones.  They were both due to retire around the same time, and the handler was able to bring his dog home, where they could adjust and heal together.  It is unfortunate that most dogs are just discarded.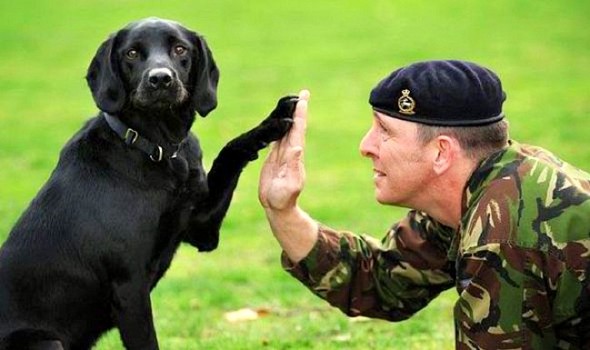 ————————————————————————————————————————–
Soldiers and dogs become deeply bonded, and would love to go home together.  We've all seen the joyful reunions between combat dog and handler – and the term "handler" just doesn't do them justice – these are brothers (and sisters)!  Many vets are willing to pay thousands of dollars to bring their buddies back home where they belong.
Even though many cargo planes fly back to the US only half full, the government says it is often too expensive to bring the dogs home.  Considering HALF of the entire annual federal budget in the United States is spent on the military, more than a pittance should be spent on veteran care – and that includes dogs – they are vets, too!
"It would be more than feasible to place a retired military working dog on the transport plane back to the continental United States," said Debbie Kandoll, founder of Military Working Dog Adoptions.  "Uncle Sam got them over there, and it's a point of honor for Uncle Sam to get his soldiers, whether they are four-legged or two-legged, back to the US."
There are numerous charities fundraising specifically for this cause – namely Mission K9 Rescue and the American Humane Association's program Helping Bring All Heroes Home.  There are also rescue groups, such as Puppy Rescue Mission and No Dog Gets Left Behind, working to bring home stray and abused dogs that soldiers bond with while on duty.
"We are creating a fund for retirement care of military working dogs and contract working dogs to make sure that these dogs are afforded with medical care they need, so they can live a retirement in dignity," Ganzert said.
"They give the best years of their lives, valiantly protecting our service members and our own freedom," said Ruby Ridpath, a civilian who adopted Carlos, an explosives-detecting yellow Lab. "He's worth every penny."
————————————————————————————————————————–
These dogs are clearly more than just equipment – they are companions, and many soldiers rely on them when they come home.
"Thunderstorms … I'd wake up at like two o'clock in the morning and I'd just be crying. I would be so stressed," said Marine Sergeant Deano Miller.
But now he has Thor, his best friend while deployed.  They were separated in 2010, and Thor served five additional deployments with five different handlers.
"I stole his collar, kept it, still have it," Miller said, laughing after choking back tears. "I just wanted my dog back. I didn't care about anything else."
They were reunited earlier this year, and now the two are inseparable.
If you would like to help, please click on any of the links above and contact your local politicians to make it a law for these soldiers to be brought home.
To sign a petition urging for all US military dogs to retire on US soil, click here.