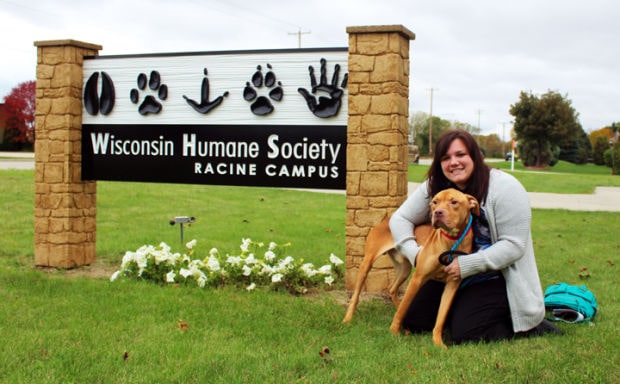 An abandoned and emaciated dog has been given a new home by one of the first veterinary technicians to treat him when he was brought in to the Wisconsin Veterinary Referral Center in Mount Pleasant.
New owner Stephanie Franczak said that the one-year-old pit bull mix, now named Gus, was absolutely terrified when police brought him in. The frail dog – weighing only 38 pounds – was found with blood spots on his nose, and hip bones that practically jutted out from his skin.
Gus was found by police after someone found him barking at their back door. The starved dog was scared, but searched for someone to help him. Lieutenant Gary Larsen said the sight of the piteous dog softened even the tough-as-nails veteran officers.
Though shy, Gus began warming up to the clinic's staff members. They tried out different names on him, but he took to Gus-Gus (after a mouse from Disney's Cinderella).
"You could see that he was a really good dog, but he just wasn't given the home he should have had from being a puppy," said Franczak.
After nearly two weeks of treatment at the center and the Wisconsin Humae Society's Racine Campus, Franczak made sure she was first in line to adopt Gus.
"He's just got this face that you can't help falling in love with," she said.
Gus gained about 12 pounds during treatment, and Franczak is hoping to see him gain about 30 more. It is believed that he will make a full recovery, and will certainly be loved in his new family that now has three cats and three dogs.