Service dog gives veteran his life back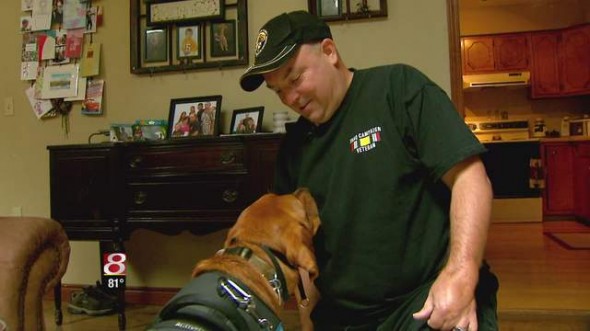 Sgt. Nick Bennett has his life back thanks to spending only two weeks with his new service dog Festus.
Bennett was injured in November 2004 in an attack in Fallujah. Although physically recovered except for a few mobility issues, his PTSD has been a struggle for him ever since.
Nine months ago Bennett began the process of being matched up with a service dog. In June he was partnered with Festus and the impact Festus had was immediate.
"It's like I've never been injured before," said Bennett. "The PTSD, the traumatic brain injury, parts that are missing none of that is coming back."
Festus is not only making life better for Bennett, but also for his wife Rachel.
"I don't feel like I have to be constantly watching and aware of our surroundings of what's going on with Nick," says Rachel. "It's less stress on me to have to do that."
Festus' presence brings a lot of comfort to Bennett but he is also trained to know dozens of commands that are tailored to Nick's needs. One of the most important commands Festus is trained to do is "nudge", which is used when Nick retreats into a bad memory.
Bennett is thankful for all the Festus has been able to do in just two weeks and can't believe what an impact he has had.
"It's still hard to wrap my head around that I've got my life back," said Bennett.