In the midst of war, a soldier hears a whimper. They pause for a moment, and see an injured, malnourished dog. This dog reminds the soldier of home. As the soldier bends down and scoops the dog up, two lives are saved. At this moment, amongst all the chaos and destruction, a bond is formed.
10 dogs were born as strays. They were saved from a life of starvation, torture, abuse, and death by American Men and Women serving our country.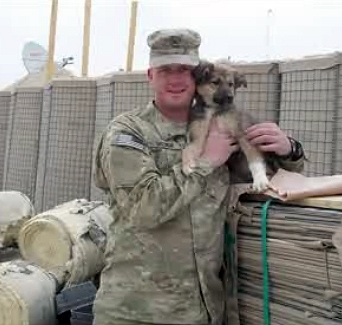 Guardians of Rescue has accomplished the first part of an important mission. Through donations from the Ryan Newman Foundation, Richard and Mary Morrison Foundation, and their supporters, these dogs are saved again.
The Nowzad Shelter in Afghanistan was forced to evacuate their location. Guardians of Rescue were determined to do their part to help.
The men and women serving our country that rescued and loved these dogs are unable to offer them a home due to the nature of their tour of duty. They did not want them left behind. These men and women sacrifice so much for us, and Guardians of Rescue is determined to help them.
Their "Battle Buddies" will be truly safe now, and through the Home Again: Operation Support Our Troops Program, these dogs will finally have the lives their soldiers dreamt for them.
As Guardians' founder Robert Misseri explains, "Supporting our Troops is of the utmost importance. By saving the animals they love, it gives these men and women peace of mind. To know their best friends are safe will lift a great emotional weight off them. Imagine having to leave your best friend behind, in the middle of nowhere, surrounded by danger, to an uncertain fate. We had to do something."
These dogs will be paired up with Soldiers stationed here in the US and returning veterans of the war that also share a special bond with these "Battle Buddies."
For flight and arrival schedule of dogs please call 888-287-3864.