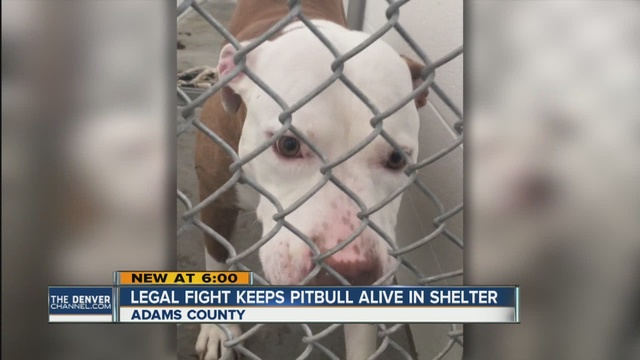 For the past two years now, Serena Campbell has only been able to interact with her dog, Baby, through a kennel door at the Adams County Shelter in Colorado.  Her dog was in an altercation with a mail carrier, and Campbell thought that the matter had been settled legally.  However, law enforcement came at took Baby away, and now Campbell suing the city is the ONLY thing keeping Baby alive.
"I miss my dog and I want him back.  He deserves to be home," said Campbell.
When Campbell and her partner separated not long ago, it was decided that Campbell would be the one taking custody of Baby.  However, before any of that could be finalized, Baby bit the mail carrier.  The City of Northglenn Police were called, and advised that Baby was ordered into home-quarantine and an appearance ticket was issued.  At the hearing, the 17th Judicial District issued a citation to Campbell and her partner, and as far as anyone was aware, the matter was handled.
Just two short days after all of that went down, the cops again showed up to Campbell's home, but this time they took Baby with them.  Baby was then impounded for a while until the state ordered the release of the dog.  Regardless, the shelter refused to give him back to her.
Another hearing took place where it was deemed that Baby was vivious.  The hearing came to the conclusion that Baby would be put down so he wouldn't hurt anyone else.  This is when Campbell got in touch with attorney Juliet Piconne.
Piconne has filed a federal suit on behalf of Campbell.  She believes that Campbell's rights have been violated here, and that it's high-time the matter is brought to a higher authority than the city and county in Colorado where all of this is going down.
"This is the most horrendous case of abuse of power I have seen ever," Piconne said.
According to Piconne, Northglenn had no right to hold a secondary hearing on the dog bite, as they had already had one in which a ruling was made.  The parameters of the ruling had already been met, so why was Baby taken away after all of that?  Also, Baby had been impounded for about six months before a notice was even given to Campbell, which is also a violation of Campbell's rights.
"He has been in this cage for 580 days. That's just not right. That's not humane," said Piconne.
If you wish to read the full case against the city, the details have been published and can be viewed by clicking here.
Donations can also be made directly to lawyer by following instructions found at:
www.coloradoanimalattorneys.com
or
Via the public GoFundMe page: https://www.gofundme.com/illegaleuthanasia.
You can sign the petition here.
For updates on Baby, visit his Facebook page here.