When a lost dog turned up at the Heartland SPCA shelter in Mirriam, KS last week, a microchip eventually revealed that it had traveled more than 1200 miles from home.
T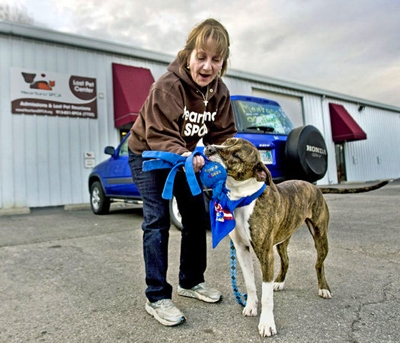 he dog, Grizz, was scanned as part of normal intake procedure. The shelter was able to track down his very relieved owner after just a few phone calls. Grizz did not wander all that way by himself – a good Samaritan in Butte, Montana found him wandering and picked him while driving from Seattle to Texas, dropping him off at the Heartland SPCA along the way.
Once the dog's very relieved owner was located, one challenge remained: the return trip. Grizz was too large to be flown in a plane cabin, so Heartland SPCA volunteer Kathy Thies stepped up and offered to drive Grizz half-way home.
"Really it all comes down to what goes around, comes around," Thies said. "I hope there's good karma!"
According to shelter Intake Coordinator Wendy Blair, "This is an incredible story of one pet's journey to return home all thanks to a microchip. Whether down the street or across the nation, this is what my job is all about. Without the microchip, the dedication of our volunteers and Grizz' owner, this reunion would not be happening."
Theis is humble when asked why she offered to go so far out of her way to help a stranger. She said imaging herself without her dog made it an easy decision.
"I believe in the Golden Rule and (doing) unto others as you would have them do undo you," she said. "I would certainly want someone to do this for me."