The sad truth for many dogs is that when they get older, they are often abandoned at shelters or left with no place to go when their owners die or go to nursing homes.  But there are many kind-hearted people in the world, like the people at House with a Heart, a retirement home for dogs.
"We have dogs come to live with us until the end of their life, and we make sure that the end of their life is full of love and caring, lots of attention, and we make sure they get all the medical care they need," said Sher Polvinale, director of House with a Heart Senior Pet Sanctuary.
In 2006, she and her (late) husband Joe began a sanctuary for senior pets in the Gaithersburg, Maryland home.  Anywhere from 20 to 40 dogs who otherwise might be euthanized find themselves in a loving home with lots of others they form new bonds with.
"They come to us from other rescues, or folks that can't take care of them anymore – maybe someone's going into a nursing home, or a family member has passed away – so those dogs come to stay with us, and there's no longer any worries that they're going to be passed along again.  This is the end, but it's a happy end."
Many of the dogs have medical issues – respiratory illnesses, heart problems, incontinence, mobility struggles – which are quite costly, but through donations, their needs are met.
"Our supporters are amazing! Recently a kindergarten boy named Compton held a fundraiser selling apple cider for the Sanctuary," they posted on Facebook. He and his parents came over to bring the donation and spent some time giving Duke some cuddles. Thank you, Compton!"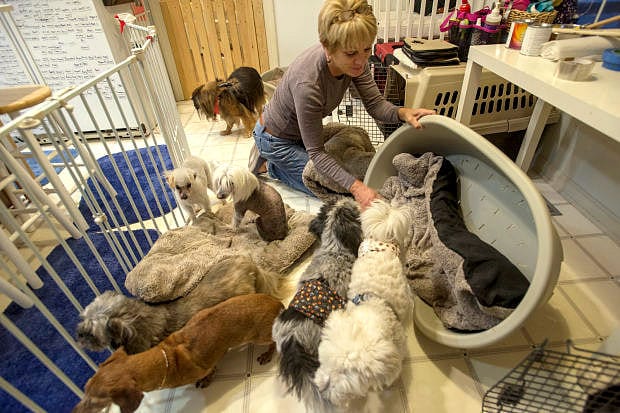 Volunteers are integral for the sanctuary's continuation.  They are there every day to feed the dogs, administer medications, clean up after them, tidy the house, bathe them, entertain them, and just hang out.
Vice President Harriette Sackler transports the dogs to the emergency vet when a health crisis arises.  It's a difficult job, because she's often the one to accompany the dogs when they die or are put to sleep.
Sher only ever leaves the house a few times a year, and never even goes to the movies or to dinner, out of fear that something will happen to one of the dogs when she's gone.
But when the dogs do die, they are not forgotten.  Each is memorialized on the "Stairway to Heaven," which features their photo on the wall leading upstairs.  It can be a difficult job, but every day is rewarding.