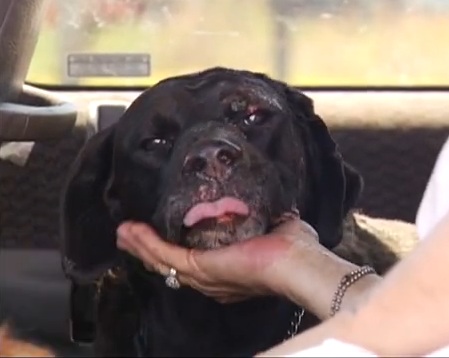 Losing your home and belongings to a fire is tragic enough, but the devastation is made much worse when lives are lost.  Kim Sieber of Buffalo, New York lost four cats and one dog when her home went up in flames, but was saddened further when one of her three surviving dogs went missing after the commotion.
Seven-year-old black Lab Joshua fled from rescuers who were trying to take him to the Green Acres Animal Hospital.  Sieber was already grieving the loss of five pets, and the thought of another being gone was too much to bear.
"I'm terrified. He's like a child to me. I know he's scared. He's hurt and he's looking for me," she said. "It hurts bad… I just can't tell you how much."
Volunteers from Pet Alert of WNY (Western New York) worked diligently to find him.  He was spotted in the area several times, and was finally discovered after he collapsed next to a cage that the organization had planted to snare him.
Joshua was taken to Green Acres for treatment from wounds he sustained in the fire.  He is on antibiotics and is expected to make a complete recovery.
"The house is gone; that's okay. That's material," Sieber said.  "But that's my baby, that's my son, you know?  He can't be replaced.  God, thank you.  That's all I can say: God, thank you."