After being dragged and hit by a car, shot, and left to die on the road, Belle is now recovering and learning what it means to be loved by people.
Julie Jones Horton of Easley, South Carolina was driving down a country road last week when she saw a badly injured animal hobbling across the street.  As she drew closer, she saw that it was a dog.
The poor bedraggled creature could not have been found by a better person – Horton is a dog foster mom.  When she stopped her vehicle and attempted to approach, the dog flopped on her side in a ditch, peering up at Horton, blood streaming from her mouth.
The woman went to get a blanket to wrap up the dog and carry her to the car, but by the time Horton returned, the dog was scampering off.
"I thought, 'If she goes into the woods, she will bleed out overnight,'" Horton told Fox Carolina.  "I had to help her."
She chased the little dog for about a mile before other drivers took notice.  The dog actually jumped right into the vehicle of one woman who had pulled over to assist.
Horton took her to the Magnolia Veterinary Hospital for treatment.  It was discovered that the dog, whom they began calling Belle, had been shot with a BB gun, hit by a car, and dragged by one.
"It appeared she may have been intentionally dragged because the damage was only on her underside," Horton said.  "There were old wounds there, too. It looked like it wasn't the first time."
Along with another woman, also an animal foster mom, who had stopped to help, Horton paid as much of the $1,000 vet bill as they could.  Sugar wraps are being used on Belle's paws.  They must be changed daily, with $40 being racked up each time.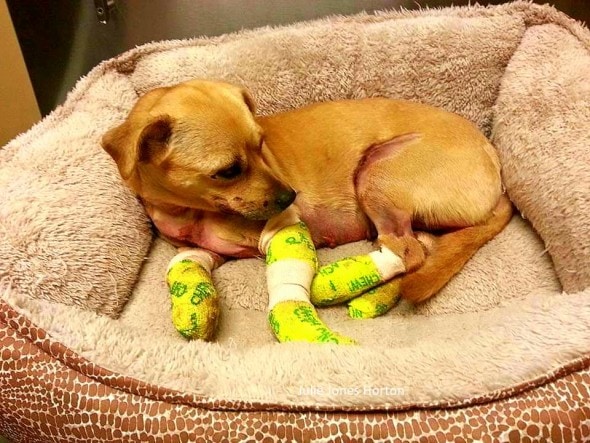 Anyone who would like to help with Belle's care may donate via PayPal to [email protected] or by contacting Magnolia Veterinary Hospital.
Belle is now recovering slowly, but well.  It will take time to heal both her physical and mental wounds, but with all the love and care she is receiving, she will be able to start a new life.
"She's eating and coming around with some tail wags, but any voice that might seem loud, it just scares her."