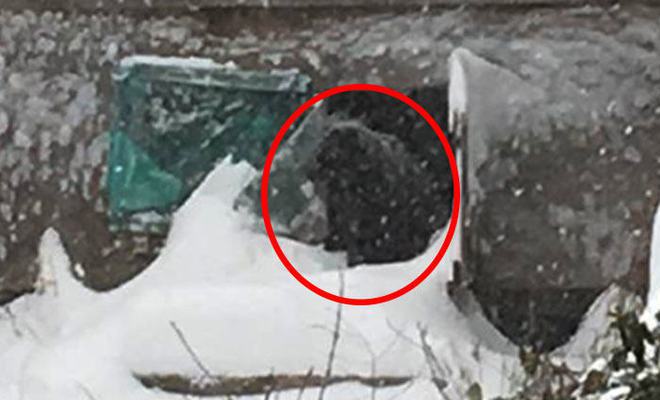 Evelyn Tully-Costa of Brooklyn, New York is a hero today.  After passing by a home in her neighborhood that had two pit bulls trapped in a backyard shack due to the snow, she decided she had enough of the mistreatment of them.  She rallied the neighborhood together, and after many calls to local police and animal control, something is finally being done about the neglect.
Tully-Costa took the original video, and posted it online.  She wanted everyone to see and share the video to raise awareness.  You can clearly hear the dogs crying, and the video shows them huddled together in a tiny shack that barely constitutes shelter from the elements at all.
Old dog left outside in blizzard.

Posted by Evelyn Tully Costa on Saturday, January 23, 2016
The video quickly made its way around the internet, and before long, the Brooklyn Police were left with no choice but to show up and do something.  A follow-up post was made once police were on the scene with the following, "Dogs on President Street have been brought inside after officers from 71st Precinct went over, made the owner shovel snow to trapped dogs to get them INSIDE!"
However, the police showing up and forcing the people to bring their dogs inside is not where this ends.  Another post from Tully-Costa said, "71st precinct is now investigating and animal care and control going over tomorrow.  Thanks for all your calls."
Apparently, this abuse has been going on for years, and this isn't the first time authorities have had to go there and tell them to get the dogs inside.  According to Tully-Costa, this has been going on for about 13 years.  Every time someone calls the police or ASPCA or animal control, the authorities come over, the dogs are brought inside, and as soon as the authorities leave, they toss the dogs right back outside to cry and potentially freeze to death.
The Humane Society of the United States (HSUS) says that some people are ignorant of how much dogs and cats are affected by the cold.  Just because they have fur, some people expect these animals to be able to survive harsh, frigid climates with no problem.  However, the HSUS wants everyone to know that this is not the case.
The HSUS wrote, "Our most constant companions — dogs and cats — feel the effects of winter weather as much as we do.  Only they are often cast outside to weather the cold or a storm, owing to a misconception that the fur on their backs will insulate them from suffering.  Without proper shelter, food and water, these domesticated animals' chances of survival in frigid temperatures is greatly decreased."
The HSUS has a really great information page on their website that tell you all about what you can do to help if you see a dog that has been left out in the cold.  It contains info on how you can help, but as always, the best thing is if you see something, say something.  It's all too often that stories like this one end in tragedy, and there is almost always someone that knew something wasn't right, but decided to mind their own business.  If you'd like more information on how you can help out in these situations, click here.