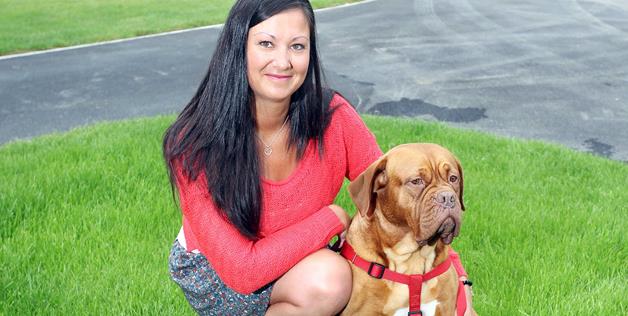 In May, Vicky Hughes learned her beloved dog Emma had a slipped spinal disc that would require emergency surgery. She was further devastated to learn her pet insurance wouldn't cover the surgery. So she used all her savings and sold her personal items on eBay to cover the cost of the surgery.
Hughes found her dog Emma collapsed on the floor of her home in Burton-upon-Trent, Staffordshire, England back in May. Hughes rushed Emma to the vet where it was discovered the dog had a slipped spinal disc and would need a six-hour emergency surgery. The cost of the surgery was £4,000. Hughes didn't hesitate about the cost and gave the vets permission to perform the surgery.
Hughes had pet insurance. She was paying £144 a year for it and she thought it would protect her against expensive surgeries like this one. A few days later though she received a phone call from the insurer who informed her that the treatment wasn't covered.
"I broke down in tears on the phone when they told me Emma was not covered," said Hughes. "It was as if they didn't give a stuff about what had just happened."
With her insurer not coming through, Hughes did what she had to. She used up all of what little savings she had. However, to cover the expensive bill she had to resort to selling her fridge, freezer and some of her clothing on eBay.
Hughes' story is just one among many of pet owners being denied a claim because of small print and exclusions.
"I simply assumed my insurance would cover all accidents," said Hughes. "I had no idea that treatment would be excluded."