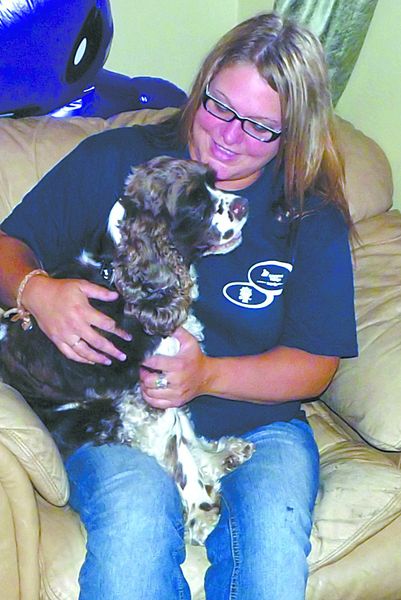 B.J. Ross said a painful goodbye to a good friend last week. The Pennsylvania woman returned from her lunch break last Monday to find that Bigsby, her 15 year old cocker spaniel, had died in her absence.
On Friday, Ross told the Altoona Mirror she had decided to take Bigsby to the Central Pennsylvania Humane Society to have him cremated when she was saddened to see a man dropping off a cocker spaniel at the shelter.
"I was heartbroken," she said. "He was my best friend and never left my side."
Ross had lost another cocker spaniel, Samson, in July of last year after he went missing. An extensive search for him was unsuccessful, and Ross leaned on Bigsby as she mourned Samson's loss, making his passing all the more difficult to accept. She couldn't fathom how a man could leave his dog at the shelter – especially a loyal breed like the cocker spaniels she had come to admire.
Ross and her mother were in a waiting room at the Humane Society when her mother overheard the man relinquishing the cocker spaniel say that he found the dog about a year ago in Juniata, the same area where Ross had lost Samson.
John Aurandt said he found the dog in a parking lot at the Ward Trucking Company in Juniata.
"Me and my boy went up and down the streets trying to find the owner," he said. "I thought he was stray, but my boy wanted to keep him."
Aurandt said try as he might, he could not find a way for Samson and his other dog to get along, so after a year of trying he had brought Samson to the Humane Society to surrender him.
"They were aggressive toward each other," he said. "I just couldn't keep him."
Ross looked through the window of the door separating their waiting rooms and was shocked to see Samson. "I opened the door and said, 'That's my dog.' I passed Samson earlier when we came in and didn't even notice. I was so distraught," Ross said.
Ross produced pictures of Samson to verify ownership, and on the very same day she was forced to bid an old friend farewell, she recovered  another.  "They said I could take him," she said. "Five minutes later and he would have been surrendered."
Humane Society Volunteer Coordinator Tammi Ingham witnessed what she called a miraculous reunion. "I get the goosebumps just thinking about it. There are odd things that happen here, but nothing like that," she said. "It sure made my day."
A grateful Ross said having Samson back as helped her to accept Bigsby's passing. "I'm so thankful," she said. "It made it a little easier."