A week ago, a Louisiana woman posted on Facebook, asking if her neighbors knew who this mystery hugger was.  A video taken of her garage caught him running up her driveway, giving her dog some love, and then taking off.  She wanted him know he is welcome to stay and give her Duchess some love any time he'd like!
"Attn Neighbors," Hollie Breaux Mallet posted.  "Anyone know who this sweet little boy is? Every now and then when he rides his bike he will quickly come and love on my dog or play fetch real quick, but always leaves quick like he doesn't know if he should be here! I'd like to tell him he's welcome to stay and play, she loves the attention!"
She garnered a number of replies, and the identity of the boy was established to be neighbor Ginger Clement Breaux's son, Josh.  She told Hollie about her conflicting feelings when she saw the video.
"Josh talks about your dog all the time! Every time we pass he looks to see if she was sitting where he could see her. Just didn't know he was doing things like this.
"Last night when I first saw it, I was torn as a momma being happy and upset because he knows he shouldn't be on someone's property, but I wake up this morning more happy that he just absolutely adores dogs so much."
His mom said he "turned ten shades of red" when she had him watch the video.  But he wasn't too embarrassed.  He just gave her a big smile and said, "you know I love dogs, momma."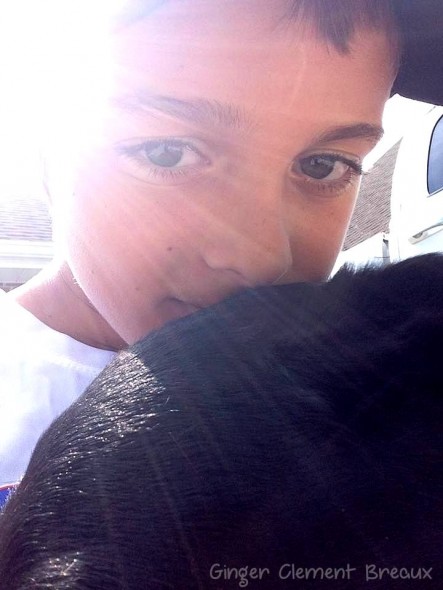 As the other commenters noted, it is incredibly sweet to see a young man with such a love for dogs.
Now that he knows he is welcome, Josh comes by more regularly and takes selfies with Duchess.  He and his family are very busy with activities right now, and do not feel they would have enough time to give a dog all the attention it deserves, but someday again, Ginger says "it will happen."
I can't steal the credit for the title – it comes from a comment Ginger got a screenshot of!