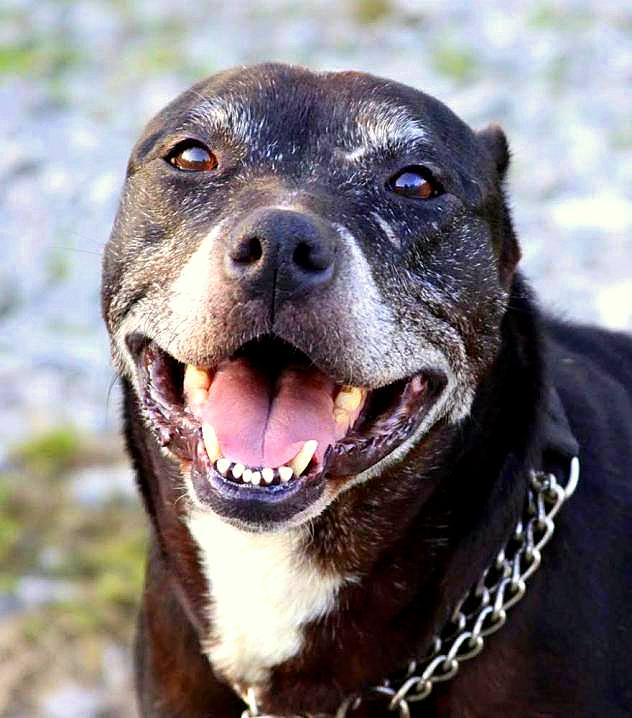 From Stella's Facebook Page:
Stella was found running the streets of Griffith, Indiana over three years ago, at the age of five. She has spent the last three years in her cage at Griffith Animal Control. She is a volunteer favorite, a very loving girl. But her time stuck in that cage with no home, no family to call her own has taken its toll on her. She now would need to be an only dog in a home, but she would be a wonderful friend to someone old enough to understand what she has been through. Poor Stella doesn't get the attention the cute, young dogs get.
Stella now has three HUGE problems: first, she is an older pit bull; second, she is a black pit bull; and third, someone in her past tried a home ear-cropping job on her. She has spent the last three holiday seasons waiting, and waiting, and waiting for the right person to come along and see that she deserves to live the rest of her life being loved, and giving all the love she clearly has to give someone that would give her the chance. Isn't there someone out that that would like to give Stella that chance, give her a home, and let her celebrate the holidays without being locked up in that cage for another Christmas?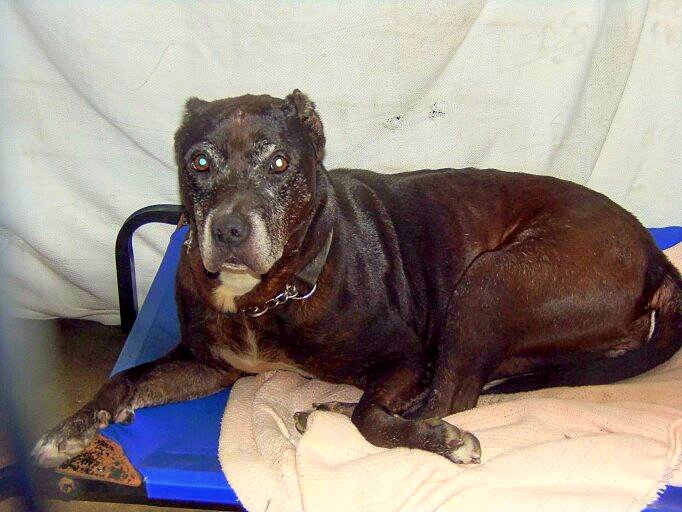 I got to be out of my cage for four whole hours on Saturday, and even got to meet a few people, still no adopter, but still I was seen, people touched me, petted me, rubbed my ears.  I have only had that happen two or three times since I've been in the shelter.  It was fun.  I love people, I love getting some attention, but now I'm back in my cage, for who knows now long. Anyway, here is a picture of me outside my shelter cage….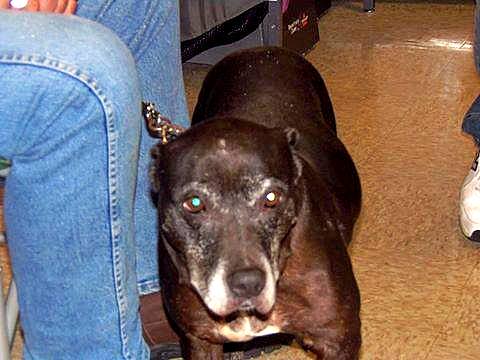 Now I've spent the first full week of 2015 in my cage, and on the 2nd day of the 2nd week, will I ever find a home? Will anyone ever love me enough to give me a chance to show them how loving I am, how grateful I'll be to have my own home, my own person, or people, how much I'd appreciate getting love, attention, always having food and water. I didn't think I was asking for that much, just the same thing so many dogs that end up in shelters get, and far faster than I have. Is there something that wrong with me that makes me unlovable?  I hope not, I'm really a good girl. Won't someone please give me a chance to prove what a good dog I really am?
If you would like to adopt the lovely Stella, please CLICK HERE.