We promised a follow up to this famous case of canine obesity many months ago, and after a six month crash diet, Cassie is looking positively svelte.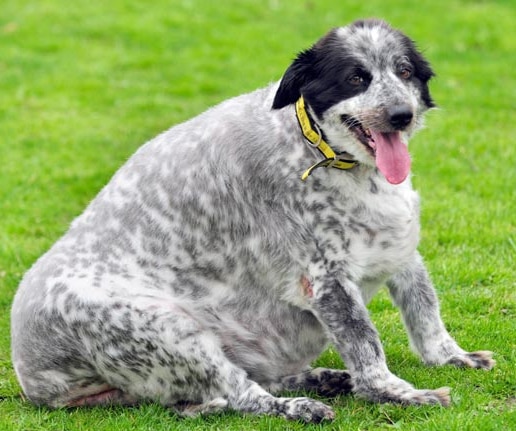 As a matter of fact, when we first introduced you to Cassie this spring, many of you were in disbelief – we were even accused of Photoshopping the dog's pictures to make her look larger than life. If that were only the case. Instead, a video released the next day eliminated any doubts, and made it clear just how much Cassie was suffering under the burden of carrying so much excess weight.
She was taken in by the Dogs Trust re-homing center in Kenilworth, Warwickshire after her elderly owner fell ill. When questioned, the woman admitted that her dog had been raised on a steady diet of junk food, and that she had never eaten dog food in her life. When she tipped the scales at 128 pounds it was clear that Cassie was going to have to start counting calories.
And she has. A low calorie dog food diet and a gentle exercise routine have been employed for months,  and the results are remarkable. Previously unable to walk for more than a minute or two without becoming winded, the once bulging Border Collie is now half of her former weight, and is feeling far better for it. Regular jaunts on a treadmill and swim sessions are part of her routine, and shelter staff say Cassie is starting to look and feel like a normal dog.
"The wonderful thing is she has an absolutely brilliant personality, but before she couldn't show it because she couldn't move. Now she can show her own personality to the full," said Dogs Trust shelter employee, Emma. Emma and her coworkers say Cassie's new owner has been fully briefed on her history and intends to keep her in top shape by regulating caloric intake and making exercise part of her daily routine. Dogs Trust manager Sandra Wilson says it's crucial for Cassie's long-term health and happiness. "Unfortunately, when owners treat their pets as if they were humans and feed them the wrong food, they're simply killing them with kindness.
A video from earlier this year shows Cassie at her largest.