It is with heavy hearts that we tell you the sad news of Zeus, who died last week at age five.  He stood 7 feet 4 inches on his hind legs, and is in the Guinness World Records as the tallest dog ever.  Due to his size, he died of natural causes.
The Doorlag family of Otsego, Michigan will always remember him as a "wonderful dog," and were shocked when they made it into Guinness.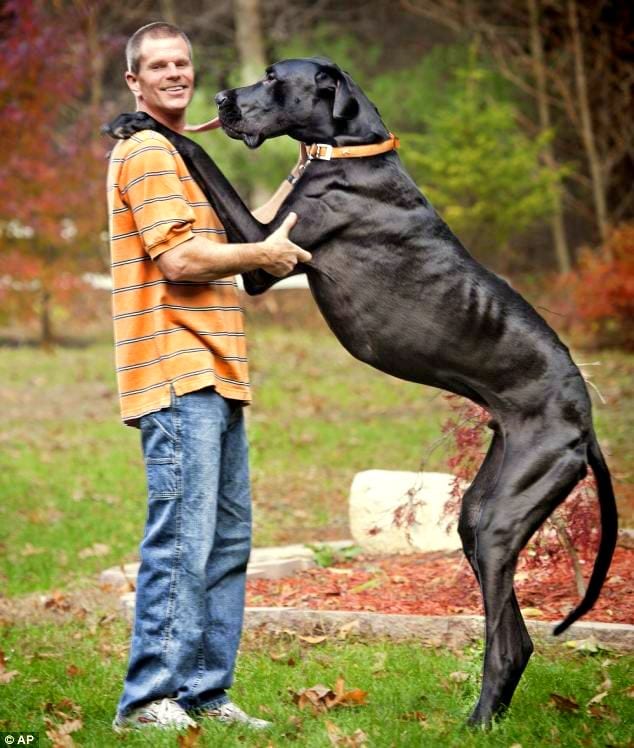 "We are just a regular family from Michigan," Denise said.  "So to be able to say that we own the world's tallest dog is exciting, and the kids are just so excited."
He beat Giant George's height record by just one inch.  His family made sure that his food and water bowls were raised – there's no way he'd have been able to reach them if they were on the floor!
Denise and Kevin say one of their fondest memories was letting their gentle giant sit on their laps as the family grilled dinner on their deck.
"We'll really miss him," Kevin said.
More than just the family will miss his smiling face; Zeus was well known in the Kalamazoo area for his many visits to hospitals and schools.
Children loved seeing him, and many thought he was a horse.
"We frequently get, 'Hey, do you have a saddle for that horse?' or, 'Is that a dog or is that a pony?'  Some people are just floored.  It's very amusing," Denise recalled.
Kevin says he brought great happiness to others.
"Those are some of the things I'll never forget about him.  He was definitely a great dog."
Zeus would have been six in November.