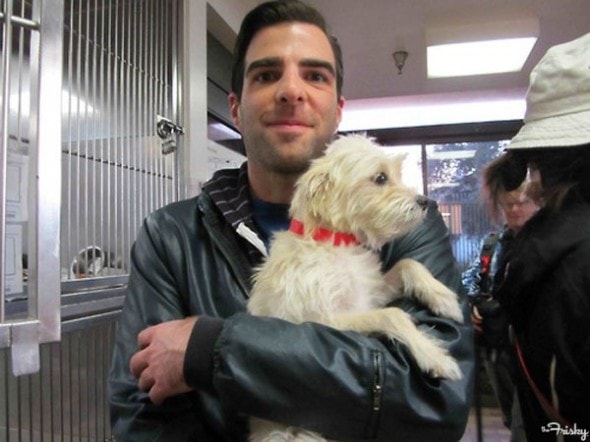 Zachary Quinto with his dog, Noah
When Zachary Quinto set out to adopt a dog from a shelter, he had no idea how challenging it could be.  He thought he would just have to go in, prove his dedication, fill out some paperwork, pay the adoption fee and bring home his new family member.  What happened ended up being a bit more complicated.
"This story is very close to all of us, as we have all rescued or fostered dogs over the years," Quinto said about his short in a statement.  "The story of the film is an exaggerated account of how I eventually found my rescue dog Noah, but it still reflects a bit of the reality I faced when I was looking to adopt a shelter dog."
Quinto, who stars in American Horror Story, Star Trek and Heroes, found his story entertaining enough to turn into a short film.  A kickstarter campaign raised over $30,000 for the film's budget and to donate to Los Angeles dog shelters.
"Our goal was to make an entertaining short film inspired by my outlandishly humorous — but true — experience of trying to adopt a dog for the first time," Quinto said.  "But we also want to raise awareness about pet rescues and inspire people to rescue their new pet instead of buying one.  There are so many beautiful dogs that need homes … the heart of this story is how much joy — and humor — can exist in trying to find the right match."
Please be advised, there are a few f-bombs dropped in this film.