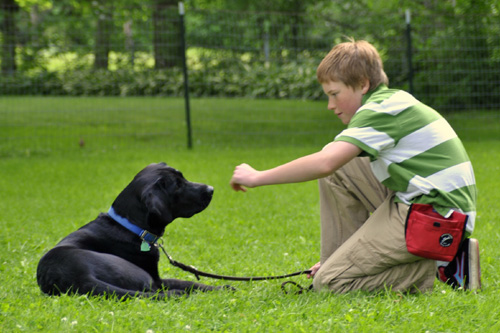 Rowan Schatz and his dog Flynn have been nearly inseparable since the time Flynn was eight weeks old.  The 13-year-old Vermont boy has been training his black Labrador to be a guide dog to the blind.  Like all the other volunteers before him who have loved and raised dogs for Guiding Eyes for the Blind, he knew it would be difficult to part.
"With letting Flynn go, it was really heartbreaking," Rowan said.  "But I knew he was going to do something good."
Flynn is the third guide dog the Schatz family has raised, but this was the first one Rowan took responsibility for.  Though it is similar to raising any dog to be well-trained, Guiding Eyes has some restrictions – no table scraps or jumping on the furniture.  They must be presented with three to five new social interactions each week, such as visiting playgrounds, businesses or just walking city streets.
"Wherever we go, they really have to be exposed to those things," said Rowan's mother Tara.
One of the biggest struggles has been instructing people not to come up to a dog and pet it while its working.
"It's hard to get people not to walk up and just pet the dogs," Rowan said. "You've just got to be firm with them … (by saying) I'm raising this dog to be a guide dog and I'm socializing it and right now he's working so you can't pet him."
Puppies begin to be tested at eight weeks by seeing how they react to stimuli like noises and movements.  Those that pass the test move on to the next level, where they are given to "puppy raisers" like Rowan.  When the dogs return to Guiding Eyes after 14 to 16 months, they are tested again.
"The purpose for that test, similar to the puppy test, is to assess which dogs have the right temperament to go into training and which dogs would be happier doing something different," said Rachel Silverman, region manager of the puppy raising program.  "It's done to be kind to the dogs. We wouldn't want to do something that would continually be stressful to the dog or something the dog wouldn't be happy doing."
Dogs that pass the test, like Flynn, go on to more intense training.  The final test that must be passed to graduate is guiding a blindfolded trainer through a city.  When they pass, the search for potential matches begins.
The Schatz family is not in contact with the first two owners of the dogs they raised, but they know where the dogs are and a bit about the people they're with.
"I'm dying to find someone who would want to keep in touch. I do respect the fact that they don't want to as well … but I'm hoping Flynn will go to someone who wants to maintain a relationship with us," Tara said.
The Schatz family loves raising dogs, but it can be a big commitment.  The short-term obligation allows them to do other things in between dogs.
"We're only on for a year and a half. Then we can take a break and travel and do everything that we want to do, and then we get another puppy," Tara said.  "So this is our break to not have a dog this summer, so we're going to travel cross country and then in August we'll get our next puppy."
Knowing that they are helping other families brings much satisfaction to the Schatzes' lives, and Rowan says the experience of training a dog is a reward in itself.
"I do like seeing the puppy learn.  It's really a nice experience seeing them adapting to their environment," he said.
Tara is happy to see the changes Rowan has made during his training with Flynn.  He has learned life lessons in responsibility and kindness, and has become more outgoing and comfortable talking to strangers while out on walks.
"People come up to you all the time and you have to learn how to have a conversation and be an ambassador, I would say, for this organization," Tara said.