Every kid has their favorite toy that they lug around until it completely disintegrates.  Many dogs and cats are no different.  Here are some that refuse to let go of their "babies."
…..
"My dog with her favorite toy, then & now."
.
.
"Seven years later, he still loved his duck."
.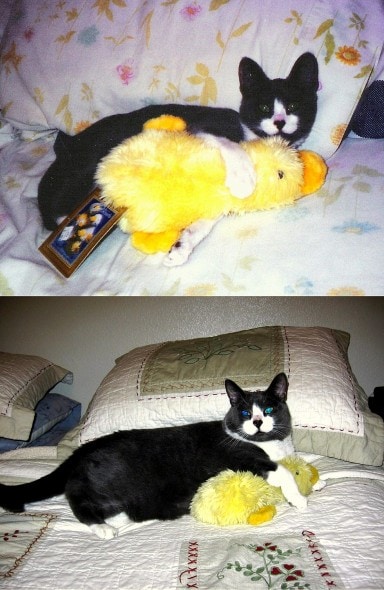 .
"When we first got her October 8, last year, she immediately curled up against my stuffed polar bear. Almost a year later on her first birthday, she still cuddles with it."
.
.
"He may have grown up but he still loves his money bear."
.
.
"Then and now – the same toy."
.
.
"18 months later and he still sleeps with his duck."
.
.
"Benny and his fav toy… 9 months later."
.
.
"Stevie the kitty, the day we got her, to today. She still loves her string."
.
.
"Nine-year-old still loves her 'baby.'"
.
.
"Still sleeps with a friend."
.
.
"Today is my puppy's first birthday. Here is he is at 3 months and 1 year with his favorite squeaky toy."
.
.
"Four years later, and it's still his favorite."
.
.
"Still one of her favorite toys."
.
.
"I bought him this squirrel when he was 8. Ten years later and it's still his favorite toy."
.
.
"My 14-year-old kitten, and her favorite toy."
.
.
"It's old and ragged and has seen better days but it's her favorite toy."
.
.
Our pit bull/boxer has destroyed every stuffed animal so far.. except for this monkey. She loves this monkey. She'll nip at it at most, but it's still intact. It's been well over a year and she still cuddles with it."
.
.
"Nova's favorite sleeping toy is still his older brother Cosmo."
.
.
"A year ago today I met my best friend, and he got his first toy."
.
.
"My cat just found his toy he came home to us with when he was 5 months old. The original owner said it was his favorite. It really must be."
.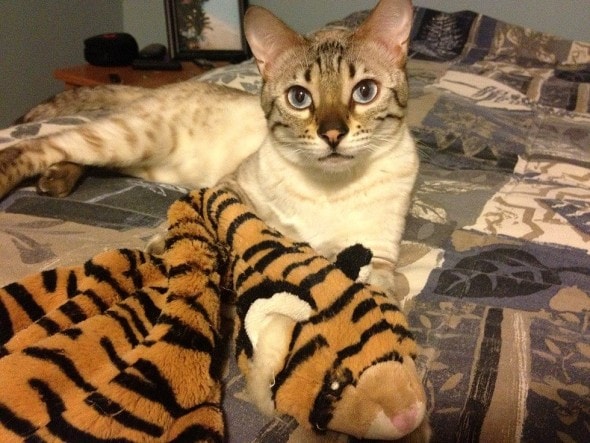 .
"My dogs favorite toy is an old action man he found in our garage. He loves him so much, he ate his head and arms…"
.
.
"All that's left is its leg, but my dog, Cooper, still loves his favorite toy."
.
.
"Six months later, she still loves it."
.
.
Thank you to Stephen Messenger of The Dodo for the awesome idea!  All photos found on reddit.
…..